The outdoor kitchen craze continues to sweep the nation, and there's no quicker way to build a stunning and durable outdoor kitchen than with the Belgard Elements Collection. Belgard Elements are modular outdoor kitchen and living room pieces that are built in a factory setting using Belgard pavers and retaining wall blocks, shipped in pieces on a pallet, and quickly installed on site with the use of a forklift. This quick and easy installation method saves time and money, allowing the construction of an outdoor kitchen in minutes or hours that would take days or weeks to build from scratch on site. This means fewer headaches and a shorter disruption of your daily life.
Bristol Series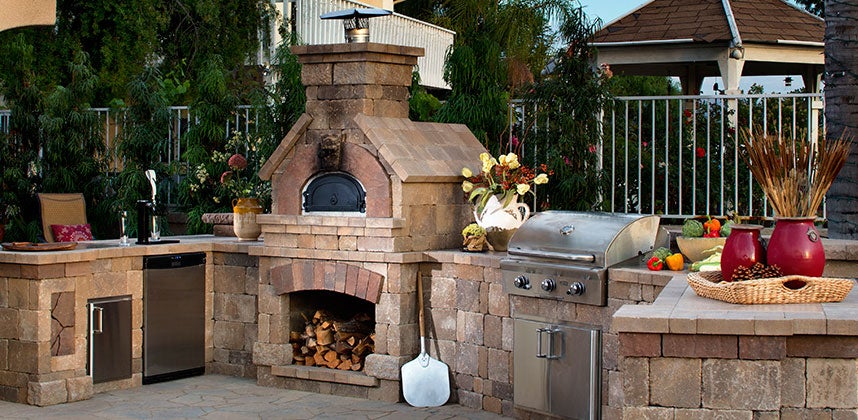 There are two styles available for outdoor kitchens, the first is the Bristol Series (shown above), which is constructed with tumbled Weston Stone® and trimmed with the flagstone look of Arbel® pavers. The combination of these hardscapes creates a striking look that blends well with any style of home or landscaping. The countertop is made of polished terrazzo, for a maintenance free surface that resists outdoor stains and cleans easily.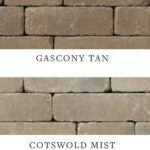 Bristol Options
The Bristol Series is available in two color palettes: the warm earth tones of Gascony Tan or the cool gray tones of Cotswold Mist. There are a variety of pieces available within the series, including a grill island, brick oven, and a selection of straight and L-shaped kitchen pieces that can include accessories like sinks, burners, grills, appliances, and stainless drawers or cabinet doors. Accent low voltage hardscape lighting can also be installed prior to delivery.
Matching Living Room Pieces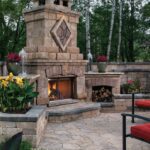 For those who want to create a more expansive outdoor living space, the Bristol Series also includes modular living room pieces, including an outdoor fireplace with option hearth and wood boxes, as well as motorized water features. And because the Bristol series is constructed with Belgard Hardscapes, patios, garden walls, fire pits, and seat walls can be constructed with the same materials to create a cohesive outdoor living design.
• • •
Bordeaux Series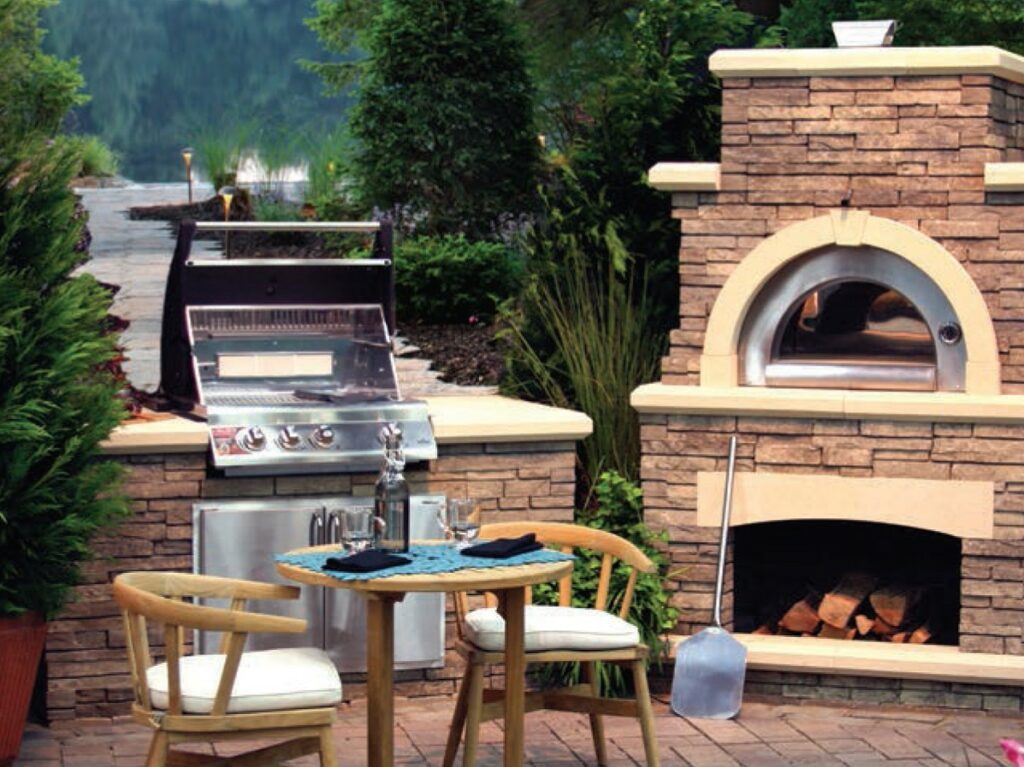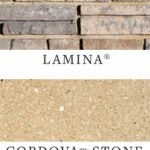 The Bordeaux Series is slightly smaller and more lightweight and is constructed with Lamina™ stacked-stone veneer. The smooth limestone finish of Cordova Stone™ is used both for trim accents and the countertop surface. The combination of rustic stacked-stone and beveled limestone creates a contemporary look that complements both rural and urban settings. The smaller footprint of the Bordeaux Series allows for installation in locations with tighter access.
Bordeaux options
The newest series in the Elements collection, the Bordeaux Series currently includes grill island and brick oven kitchen pieces. The grill island comes outfitted with a stainless gas grill and matching cabinet doors.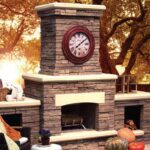 Matching Living Room Pieces
Living room pieces available in the Bordeaux Series include an outdoor fireplace and optional wood boxes. As with the kitchen pieces, the Bordeaux living room pieces offer a smaller footprint and height and are a more lightweight option than the Bristol Series. Both the Bristol and Bordeaux fireplaces can be constructed as gas-burning or wood-burning.
• • •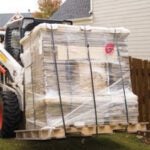 Installation
Belgard Elements are shipped in pieces on pallets and installed on-site with the help of a forklift. The site must have adequate access and be properly prepped to support the weight of these structures. To find a Belgard Authorized Contractor in your area who can help you design and install your Belgard Elements Kitchen, visit our contractor locator page.