A misconception of permeable pavers is that they are only for commercial projects, or that they aren't available in a variety of styles that a homeowner would want to use for their driveway, walkway, pool deck or patio. Throw of all of those thoughts out the window because this week we're going to talk about how being environmentally friendly is a beautiful thing for the workplace and the home.
The key to understanding permeable pavers is to think of the pavement and the base aggregates – or the small stones and gravel that form the base under and around the pavers – as a system, instead of separate products. As water rains down on the pavement, it begins its journey by seeping through the pavement, and then through the base aggregates, which naturally filter the pollutants. As it travels down, the water is stored in the base, until it reaches the natural underlying soils and recharges the ground aquifers. Thus, permeable pavement serves as an underground storage basin that filters the water while allowing pedestrian and vehicular traffic on the surface. Belgard permeable pavers are a beautiful solution to manage storm water and lessen homeowners' environmental footprints. Besides a stylish aesthetic, benefits of permeable pavers include: • Reduces pollution from rain water runoff • Reduces runoff from the common rain storm by as much as 100% • 50 year life-cycle for surface • Outperforms similar systems in harsh climates or freeze thaw cycles • Replaces detention/retention ponds While there are pavers specifically labeled as permeable because they are more porous than regular pavers, any Belgard paver can be laid with aggregate material, such as this pool deck featuring Urbana pavers. So you can feel good about protecting the environment for the future while making your outdoor space look good for the party today.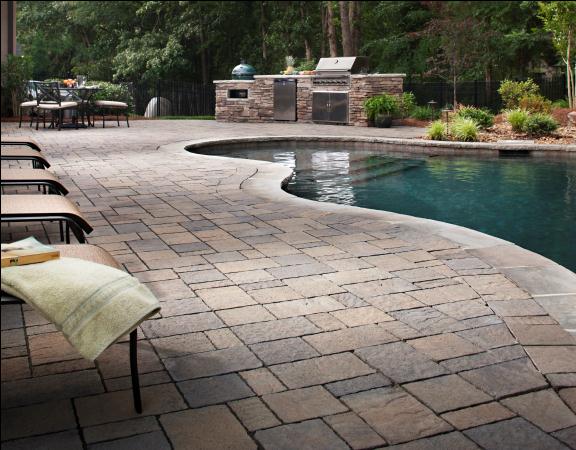 Visit Belgard to request a complimentary Idea Book and start planning your permeable patio today!