Contractors play a pivotal role in helping homeowners bring their outdoor living visions to life. Each month, we'll offer a Contractor's Corner post to share tips to help our contractor partners offer even more to homeowners and their landscapes.
This month, we want to delve into design. Knowing exactly what your customer is looking for can be challenging, especially if the homeowners themselves don't yet have a clear vision. A design center can be a source of inspiration to homeowners and help them realize their ideal outdoor living space.
What is a Design Center?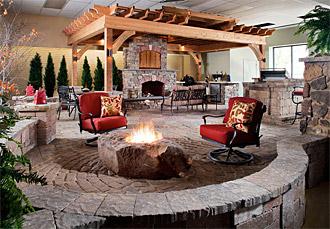 Design Centers are outdoor living idea showplaces where Belgard® products are staged to mimic real life scenes. Design Centers are a convenient resource to showcase Belgard premium pavers and wall products as well as design elements, including modular fireplaces, brick ovens and outdoor kitchens. Design Centers are the perfect place for your customers to be inspired and obtain ideas to create their own outdoor living retreat.
Directing your customers to a Belgard Design Center lets them see product in real life settings and showcases how different outdoor living elements can work together to create a beautiful, customizable space. Design centers are a place to get ideas, not product or materials.
Where are Belgard Design Centers?
Currently, there are eight Belgard Design Centers in Calif., Fla., Ga., Ind., Kan., Mass., Nev. and Tenn. To find a design center near you, visit: www.belgard.com/locator
Don't see a design center where you live? Belgard will soon be adding more design center locations throughout the country – stay tuned!
Other Resources
The Belgard Design Studio helps you turn potential sales into actual sales by creating a 3-D virtual tour of homeowners' dream outdoor living plans. Contractors and dealers can choose from four levels of service. The free service offers a number of existing design plans that already include 3-D animated fly-throughs, 2-D photorealistic screenshots, pro screenshots, and Belgard product materials lists. Or, submit your existing plan and have your designs converted into 3-D images with animation. Custom services start at $99 and vary depending on the project. Visit https://www.belgard.com/plan-design/design-studio/ for more information.