Pre-Sealed Promise
Belgard's exclusive premium surface level color-enhancing protectant. TrueColor enhances the original color depth of Belgard pavers and extends color fastness and durability over time. It also makes treated pavers more resistant to everyday wear and tear such as UV rays, stains and even acid.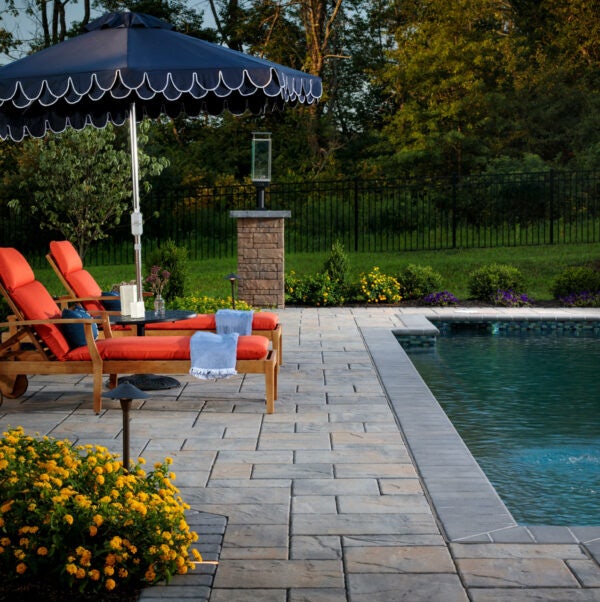 Surface texture has a lot to do with how our eyes perceive color. TrueColor works to fill in surface roughness, resulting in pavers with deeper, richer colors.
Belgard implements cutting edge technologies to improve product durability and make sure colors stand the test of time. Our core color process evenly disperses color throughout each paver, creating a consistent and beautiful look. The use of oxide pigmentation to disperse colors consistently throughout the paver allows for further stressing, giving homeowners more options without sacrificing quality.
PROTECTION FROM FADING
Concrete fades due to everyday wear and tear and exposure to ultraviolet radiation in sunlight. Over time, the fine particles containing pigment on the surface of the paver may be worn away leaving the paver looking faded.
Pavers with high strength and low absorption will retain surface and color integrity over time. Integral color enrichment systems such as TrueColor can help raise paver quality and preserve color depth and hues.
A PROMISE UNLIKE ANY OTHER
We believe in our products, and we believe in our Belgard Authorized Contractors. That's why Belgard pavers with TrueColor are backed by the strongest warranty in the industry. TrueColor technology is designed to protect pavers from wear and fading.
That's not a statement, it's a promise to both homeowners and contractors alike. If a TrueColor paver installed by a Belgard Authorized Contractor should need to be replaced, our TrueColor Warranty covers both the replacement product and installation labor.
We proudly stand behind our products with a lifetime transferable limited warranty. That's true protection for your project and the peace of mind to know that a promise made is a promise kept.