Paradise Restored Landscaping & Exterior Design
Paradise Restored has earned the prestigious recognition of being one of the leading Paver Installers , Landscapers & Exterior Design Companies in Portland. We began earning our place in 1995, and today, more than 24 years and countless satisfied customers later, Paradise Restored Landscaping is recognized as one of the best-known landscape designers and builders of total outdoor environments – Covered Structures, Outdoor Fireplaces, Oudoor Kitchens water features, courtyards, firepits, custom wood structures and much more– throughout the City. We have earned the confidence and respect of homeowners on landscaping projects of every scale. The core strength of Paradise lies within its team – landscape professionals whose combined decades of experience in Ourdoor Living & Landscape Design and horticulture knowledge give Paradise Restored an edge. By effectively aligning Micah's vision with the motivation of his team members, Paradise has established the ability to determine what the client wants, then transform it beyond expectations.
ADDRESS
9907 SE 82nd
Portland, OR 97086
Fill out the form below to contact Paradise Restored Landscaping & Exterior Design
SERVICES OFFERED:
Driveway
Walkway
Retaining Walls
Pool Deck
Patio
Fire Pit
Fireplace
Outdoor Kitchen
AREAS SERVED:
Portland Or and surrounding areas
SPECIALTIES:
Oudoor Living Design/Build
Outdoor Kitchens
Outdoor Fireplaces
Paver Installation
Covered Structures
"
Micah is extremely knowledgeable and goes out of his way to assist with ideas for your project. In my first interaction with him, he spent 30 minutes (after hours) to listen to my plans and to share ideas. He walked me through pictures of beautiful projects and concepts that may fit my needs and spent a good amount of time showing me previous jobs/concepts that he thought may be good fits for my project. That was truly unexpected and much appreciated. He is clearly passionate about his work/company and it shows. I would definitely recommend his services!
"
"
We recently had the pleasure of working with Paradise Restored and could not be happier. They came and gave us a free estimate. We gave them a general idea of what we wanted. After that, we got out of the way and let them work their magic. Our backyard was terribly bumpy and the lawn was dying from big old dead trees. We now have beautiful grass growing on a level yard, a new path along the side of our house and river rock creating a nice border between the lawn and the fence. A row of arborvitae is now replacing the old trees so the yard feels twice as big as before. We will definitely be calling them again for another project next Spring.
"
"
Micah and team have always done terrific work for us, over multiple years, multiple properties, multiple projects. Very professional, reliable, his crews are awesome. Couldn't recommend them more.
"
"
My wife and I recently posted several photos of our "restored" backyard on Facebook and received glowing comments from our friends, one of whom – without knowing your company's involvement – responded with a single word: "Paradise!"
I want to thank the entire team at Paradise Restored including owner Micah Dennis, designer Elizabeth Hodgson and in particular construction coordinator Richard Hadeed, who had to leap a number of unexpected hurdles in order to implement what we have today, and did so with much patience and grace.
Now… time to relax and enjoy the splendid fruits of their labors!
Dana & Sue
"
"
I hired Paradise Restored to improve the look of my backyard and they delivered! They installed a patio with a beautiful fire pit made of pillars of Colombia River basalt as well as a gravel path and a new gate. The workmanship was excellent as was the collaboration on the design and implementation. It all comes down to implementation, and I would especially like to call out Isidro for his vision, insight and workmanship. He was continually making adjustments and ensuring quality. The entire project team did an incredible job! Thanks!
"
"
We worked with Micah and Paradise Restored on the design and execution of a full-scale transformation of our large sloped backyard in Multnomah Village in SW Portland. They did an amazing job! We've worked with several landscapers and contractors over the years and Paradise Restored definitely rose to the top. Every member of the team was top-notch. The designer, project manager, and crew were all awesome to work with and we felt like they took our project's success very personally and did everything they could to help our project succeed.
We have already recommended Paradise Restored to several people.
"
"
Working for a major NW Hardscape products supplier I have personally been affiliated with Paradise Restored for almost 4 years. I have found them to be very professional in the way they run their business. I have dealt with both office and field personnel and it is a pleasure to work with their people. Paradise Restored is a member of our Preferred Contractor program and we continue to recommend them because we get great customer feedback.
"
PROJECT PORTFOLIO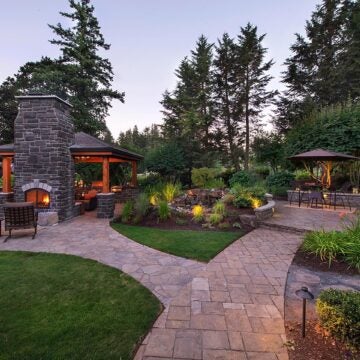 Back yard Retreat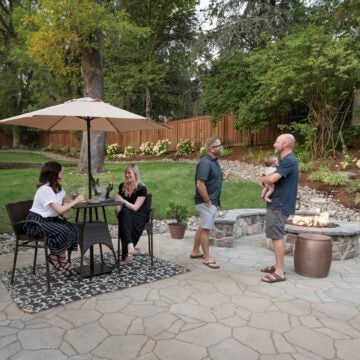 Firepit Patio Destination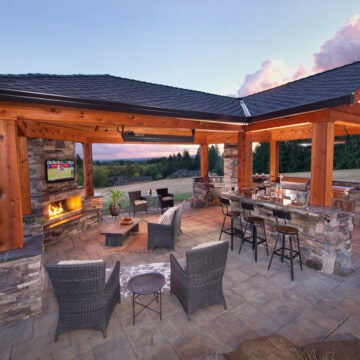 Showcase Hardscape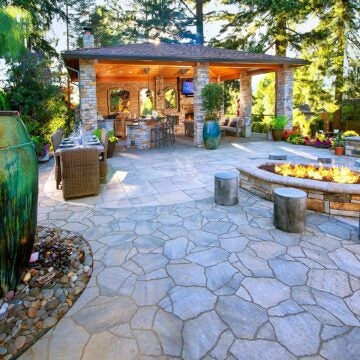 OUTDOOR LIVING MASTERPIECE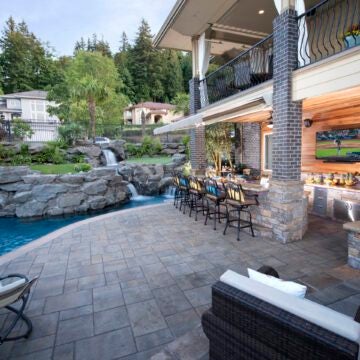 Tropical Paradise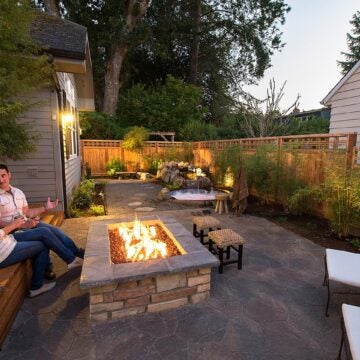 Happy Family Happy Life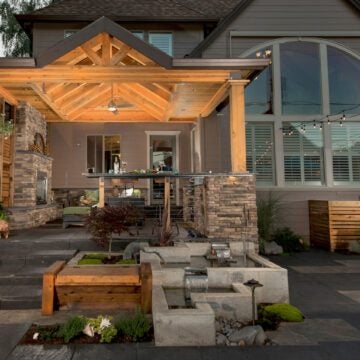 Outdoor Living Utopia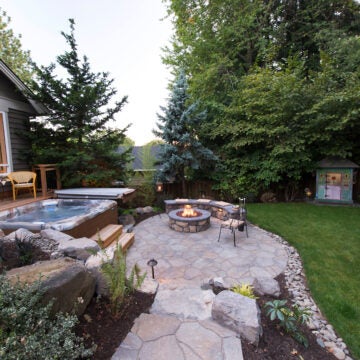 Water and Firelight