Outback Landscape, Inc.
Outback Landscape is a full-service maintenance, design, and landscape installation company serving Southeast Idaho and Wyoming. We install beautiful, functional landscapes. But our work doesn't stop there. We'll stay with you for the long haul, taking care of your property through all four seasons.
ADDRESS
3758 N Yellowstone Hwy
Idaho Falls, ID 83401
Fill out the form below to contact Outback Landscape, Inc.
SERVICES OFFERED:
Driveway
Walkway
Retaining Walls
Pool Deck
Patio
Fire Pit
Fireplace
Outdoor Kitchen
EXTERNAL LINKS:
"
We have used Outback Landscape, owned by Chase Coates, multiple times over the past many years to enhance the beauty and functionality of our yard.
Outback has planned and constructed three entertainment areas, raised planter beds, landscaped around a new shed, and most recently in 2013 re-landscaped two problem areas in our front yard.
Outback and Chase bring tremendous value to the table. He is able to help you envision what you want to achieve with your projects by making suggestions, pointing out pros and cons and providing diagrams of potential finished projects. He has a good working awareness of what is available on the market and can suggest materials from various price ranges.
Our first project was to convert a run of the mill, crumbling cement patio with a hot tub into a relaxing, attractive entertainment area. When it was done we had two separate areas of pavers (one for cooking and one for sitting and eating) with a fountain, decorative lighting, architecturally interesting lines and paver patterns. He was open to our input during the construction process and added two planter beds on either end of the sitting and eating area.
This project was started and completed on time and at the quoted price. This initial project adds beauty to our yard year round and receives rave reviews from everyone who has the opportunity to share it with us.
Because of our complete satisfaction with this project we have employed Chase for three additional â??remodeling projectsâ? and we are pleased with all of them. Additionally, if we have had a problem, Chase is available to discuss and provide an acceptable solution. The pump for one of our fountains began to malfunction after several seasons and Chase quickly replaced it and only charged us for the difference in the price from the original and replacement unit.
We have recommended Outback Landscape to our friends who have used the firm with satisfaction. We will continue to use Outback Landscape and Chase for our future landscaping needs as we find him to be very knowledgable and skilled in his profession as well as an honest business man and a nice person.
"
PROJECT PORTFOLIO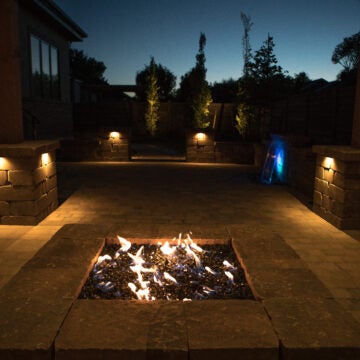 Hoge Residence