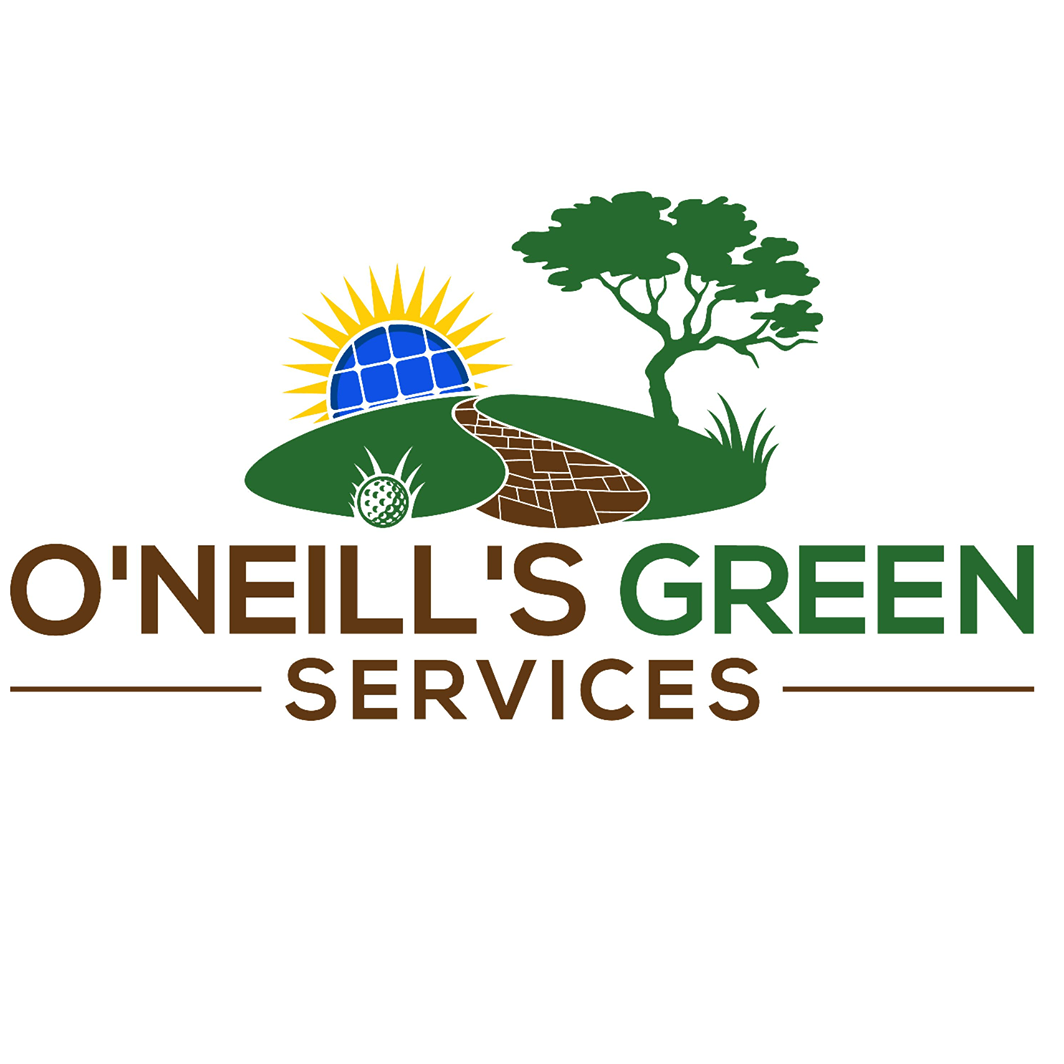 O'Neill's Green Services Livermore
O'Neill's Green Services is the northern California San Francisco Bay Area's premier artificial turf and hardscape installation company. We specialize in the installation of artificial grass projects, pavers and hardscapes. We have been installing synthetic grass for over 10 years and have become the artificial turf installation authority. Additionally, our wholesale turf pricing is the lowest in Northern California. No job is too small or too large. We have worked with celebrities, senior center facilities / senior retirement homes, huge commercial stadiums, Roofing projects and solar power systems - design & installation including battery backup options. We no longer just focus on fake turf and backyard putting green projects - We do complete backyard makeovers. If you want to do it yourself DIY; we can order supplies you might need. We can get you in contact with landscape designers or landscape architects to design the perfect spot. Need a new patio cover or pergola? Need all the cracking fixed in your driveway? How about a backyard bocce ball court? We can put in a children's playground or how about a fire pit or outdoor fireplace? We can make unique paver designs or put in paver steps up to your new front porch or new wood deck. Need sprinklers, retaining walls, a dog run, rooftop deck or a new Calstone, Basalite or Belgard stepping stone paver path? We are a licensed in the following C-61 / D12 SYNTHETIC PRODUCTS, C27 LANDSCAPING, C-8 CONCRETE but we can also help find you a subcontractor if you need something we aren't able to do.
ADDRESS
6776 Patterson RD.
Livermore, CA 94550
Fill out the form below to contact O'Neill's Green Services Livermore
SERVICES OFFERED:
Driveway
Walkway
Pool Deck
Patio
Fire Pit
Outdoor Kitchen
Retaining Wall
AREAS SERVED:
Livermore
Dublin
Pleasanton
Sunol
San Ramon
Fremont
Danville
Alamo
Castro Valley
Diablo
Blackhawk
Walnut Creek
Pleasant Hill
Clayton
Concord
Orinda
Lafayette
San Francisco Bay Area
Alameda County
Contra Costa County
Santa Clara
San Mateo
SPECIALTIES:
Pavers
Artificial Turf
Retaining Walls
Putting Greens
Seat Walls
Pergolas
Patio Covers
Bocce Ball Courts
Hardscaping
Driveways
Paths / Walking Areas / Walkways
Pool Decks
Fire Pits / Ouitdoor Fireplace
Sitting Walls
Baseball Batting Cages
Chess Boards
Decorative Concrete
Concrete Patios & Driveways
Wholesale Turf
Envirofill Infill
Dog Runs & Pet Turf
Playgrounds
Commercial Solutions
Stadiums
Landscaping
Drought Tolerant Landscape Solutions
Garden Plans & Ideas
Belgard Certified Installer
Pavers: Dimensions, Dublin Cobble, Holland Stone, London Cobble, Mega-Arbel, Old World, Old York, Origins, Turfstone, Aqua Roc Permeable Paver, ardesie, Glocal, Noon, Quarziti, Unico, Verona
Collections: Environmental, Herirage, Legacy, Metropolitan, Natural, Porcelain
Brookshire & Weston Stone Fire Pit Kit
Freestanding & Retaining Wall Blocks: AB, Ashlar Tandem, Aspen Stone, Belair Wall, Brookshira, Diamond Pro, Diamond 9D, Lafitt Tandem, Weston Stone
"
We hired O'Neill's for our backyard putting green on our side yard. From the initial consultation to the finished product, they were extremely informative and professional. Work got started within a couple weeks and everyone wore a mask and followed safety protocols. Any questions I had were answered and the workers were very friendly. We are so happy with the end result and would recommend for anyone looking at a backyard green.
"
"
We wanted to remove our old lawns of both front and back yards and replace with artificial turf. After talking with representatives from a few competitors and comparing the quotes, we decided to go with O'Neill's since the business appears to be more professional and the price is reasonable even though it not the cheapest. My previous experience with another contractor for a different project was no good and I was concerned in the beginning for this project too. However, O'Neill's guys paid more attentions to details and demonstrated a much better workmanship. The end product looks very beautiful. I highly recommend potential future customers to consider O'Neill's for their artificial turf projects.
"
"
OG responded to my request for an on-site quote very quickly. I worked with Ronnie to confirm our design and go through material selection. There was a bit of a wait between going into contract and project starting (late summer 2020 was a popular time for covid home projects around the Bay Area). Paver cuts were precise and edging around the turf was tight. Crews were courteous, cleaned the site everyday and were thoughtful to our neighbors. Ronnie responded to all my questions quickly and proactively offered ideas/concern areas to address.
"
"
What a transformation, we are loving our new turf! With two boys and two dogs we wanted something durable for our backyard. We got two quotes and they were almost identical but we chose O'Neill's for the quality of service, comprehensive installation and impressive product. Installation was completed quickly and everyone we encountered was very nice from start to finish.
"
"
O'Neill's Green Services just put in a putting green at our home and we couldn't be happier. They made everything so easy. They came out within 2 days to give us a quote and were reasonably priced and provided us with many suggestions which was helpful.
They're pricing was competitive and we were happy. They originally said that it would take them four days to complete the job and it only took them two days. Their employees were extremely kind, hard working and CLEAN. When the job was complete, they blew my entire backyard and hosed everything off as well. They use good quality product and we are so happy with the results.
"
"
Fantastic service all around from day one to finish to product. Very professional and their attention to detail was outstanding. I would highly recommend O'Neill's Green Services to anyone who's looking to add that little extra touch to their home.
"
"
I had turf installed in my backyard about 2 years ago. There were some areas that were sagging and needed repair. Contacted O'Neill's Green Services and it took a bit longer for them to come out and repair (due to Covid), which is understandable.
Candy, who's in the office, is super nice and relays information. She's been my contact on when this would be addressed. She's super friendly!
Luis did a GREAT job on the repair! He is knowledgeable, a hard worker and dedicated to his work.
Thank you!
"
"
We found O'Neil's kind of randomly. We had spent over $2500 on lawn planting in our back yard…2 attempts and had no success in getting either lawn to thrive. We were finally told that our soil was so depleted of nutrients that one would need to dig down 6-8 inches and replace the soil. At that point we decided to check out artificial turf. Ed Bols came out to look at our need and give us a quote. His pricing was below what we were expecting to hear, and we liked his low pressure sales method and the quality of the product. We decided to go forward. The job took two days. Luis and his workman were very respectful of our plants around the area to be turfed and even dug them up and put them in temporary pots to save. They were very neat in their clean up, on time both days and kept us up to date as to what would be done that day. We were very happy with the end product and would recommend them to anyone interested in having a
professional job done.
"
"
Just had them install a bocce ball court in the backyard. They did a great Job at a reasonable price. Nice people to work with. Highly recommend them.
"
"
We had a putting green put in and can't stop using it. Starting with Ed on the sales end, got us a very competitive quote quickly. He kept us updated on schedule and status of the project, to Jose and Thomas and crew doing a great job. They kept us in the mix all the way through the install. Would recommend O'Neill's for sure
"
"
Dealt with Mike and had them put pavers in my back yard. They only took a total of about 4 days to finish the job and were very good. The pavers look amazing! They were also good about not blocking neighbors with pallets and such. Overall great service!
"
"
The team who came out to do the work were equally great – punctual, efficient and these guys are real professionals, I can tell how hard they were working to deliver the best possible result.
In fact, we liked their work so much, we added on to the existing project not once but twice. In the end, we decided to have our entire backyard territory redone by these guys – side yard turf and additional ground cover also. These add-ons were quickly accepted by the office and executed the very next day, it's amazing how quickly these guys are able to start and finish a project.
"
"
They installed pavers, synthetic grass, fire pit and patio cover. Mike was easy to work with and the crew that did the work was great. They even finished ahead of the time frame that they initially said they could get everything done! We now have a backyard that we love to hangout at.
"
"
They do an amazing job. My putting green is wonderful. James was incredible every step of the way.
"
"
I just wanted to say I love how our yard came out, it's awesome. We had our front yard done with artificial grass and put a putting green in our backyard. We worked with Ronnie he was great and easy to work with.
"
"
They did a fantastic job with our back and front yard. The artificial grass looks and feels gorgeous.
We get so many compliments and our kids love hanging out with their friends in our backyard
Mike and his team were professional and gave an estimate on the time line and finished on time
We are very happy with the work and recommending them to all our friends. I can assure you that you will be beyond happy with their work,
"
"
I had severe flooding due to sprinklers that had been covered and left uncapped during a previous turf install by a different installer (heavenly greens). The prior installer sent two crews to repair and replace the turf and they both had no idea what to do. Luis with O'Neill's Green Services was able to complete the repair very quickly. Very nice to find a turf company with crews that are experienced and do good work.
"
"
We had a split project where one side was the play area for the kids, the other side around the house was for the dog run. They did a wonderful job from the start. Ronnie took time on a Saturday to show us samples and to take some quick measurements. They were able to finish the job faster than originally planned, and both sides turned out great! Thanks again guys for adding another piece to our backyard puzzle!!!!!
"
"
Ronnie gave me a quote for a small job and made me feel comfortable that this company knew what they were doing. They were able to start the job in about two weeks, tearing up concrete and putting a small lawn in our backyard. The turf looks and feels great and our dogs love it.
Of all the companies we received quotes from and felt confident in, their quote was the lowest. Very happy with our entire experience with this company. Thanks again!
"
"
Amazing!! Thank you Mike O., for going above and beyond in helping me make my place look more like home. I live in an apartment in San Francisco and needed a green area of grass for me and my pup. Not only did he help with this but also provided resources for materials and was very thorough on how to install it. I get so many compliments from my neighbors and it has made the complex look even nicer. Me and pup are forever grateful
"
PROJECT PORTFOLIO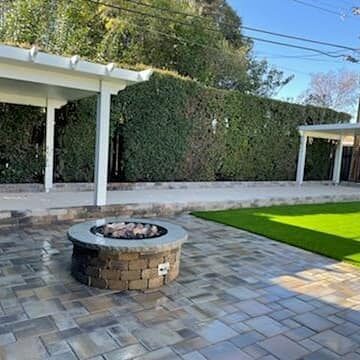 San Jose Backyard Remodel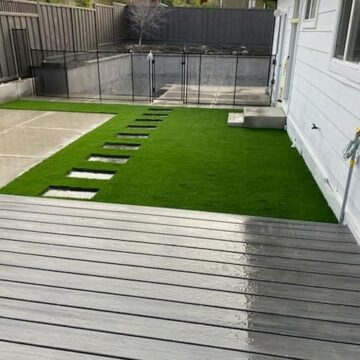 Danville Home Backyard Remodel Free Estimates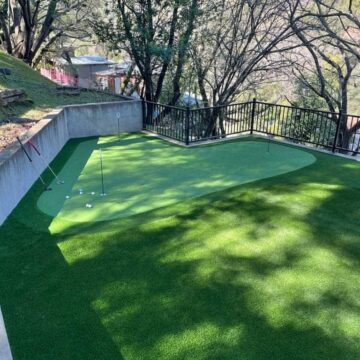 Putting Green in San Jose Call us @ (925) 443-PUTT