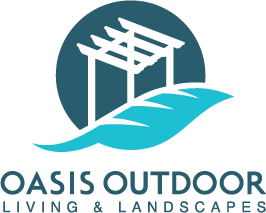 Oasis Outdoor Living & Landscapes
Oasis Outdoor Living & Landscapes knows your home is bigger than what's on the inside, we create a continuation of you home outside for all-season enjoyment. It might be relaxation, family parties, BBQs, or just a quiet place to seek sanctuary from the worries of the world. No matter your answer, we'll create exactly what your heart desires.
ADDRESS
8100 E 106th St, Suite 250
Fishers, IN 46038
Fill out the form below to contact Oasis Outdoor Living & Landscapes
SERVICES OFFERED:
Driveway
Walkway
Pool Deck
Patio
Fire Pit
Fireplace
Outdoor Kitchen
Belgard Preferred Payment
Retaining Wall
AREAS SERVED:
Carmel
Fishers
Westfield
Zionsville
Noblesville
Geist
Indianapolis
SPECIALTIES:
Outdoor Kitchen Design & Install
Creative Patio Layout & Design
Swimming Pool Design & Installation
Covered Patio Solutions
"
Rob was phenomenal for me. Not only was his pricing extremely fair, but I think his service and the response was done very quickly.
It's a nice place for my wife and I and our friends to come out here and relax. With the space and the way he designed it, hot tub included, it's very peaceful, particularly in the month of May when it's very busy.
Rob's customer service is great and I'm looking forward to using him again in the future.
"
"
They really understand space planning. They took a blank canvas and really architected a little alcove here with just what was the backyard. When you sit here, you feel like you're alone and there's privacy. If you weren't working with someone who was a space planner first and someone who really understood landscape architecture, I don't think it would be the same.
I think our ideas and the team's ideas all came together. We made changes mid-stream and they were very flexible. Neither of us are big green thumbs when it comes to the yard. That was one area where we gave Rob carte blanche. Plant whatever is going to work for at least three seasons. We've been through a few seasons and everything looks great and is colorful and relatively low-maintenance so far.
"
"
Rob was great to work with. Any request we had, he was right on it. He was very personable as well. He also came out personally, which you don't always find for builders and landscapers.
We really like sitting out here, looking out at the lake. We have dinner and breakfast on our patio. It's an extension of our home. We would be out here 24/7 if we didn't have to sleep in a bed or go to work.
"
"
We had a great experience with Rob and the whole crew. They were very helpful in the design process. They were easy to communicate with and easy to work with. We're very impressed with how efficiently they worked.
We use this all the time. In the winter, we're out here watching sports. We can watch a football game out here. In the summer, we can sit out here in the shade. In the spring and fall, we love having people out here with the fire. It's our favorite room in the house.
I'll actually bring my work out here when it's nice out.
We have birthday parties, we'll have family over. We had family over for Thanksgiving and had a party out here and Thanksgiving dinner.
We enjoy having family and friends over. We use the space to relax.
"
PROJECT PORTFOLIO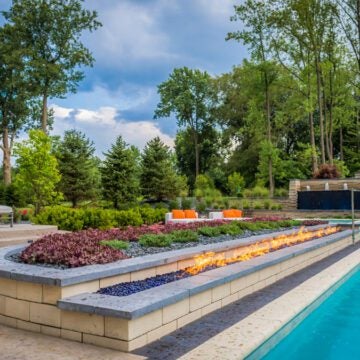 Luxury Outdoor Living Space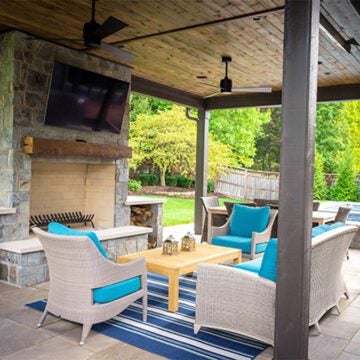 Covered Patio Structure and Swimming Pool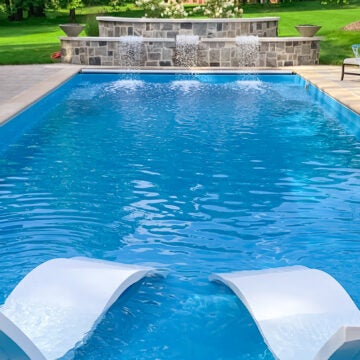 Swimming Pools