Clearwater Summit Group
We are a group of highly skilled landscape professionals using our work to inspire and finding inspiration in what we do. We believe that an approachable, down-to-earth attitude fosters solid work relationships and quality results. We give the same level of attention to all projects, regardless of size or budget, and work to assure that our clients experience the best outcome for their landscape investment.
ADDRESS
PO Box 6470
Spokane, WA 99217
Fill out the form below to contact Clearwater Summit Group
SERVICES OFFERED:
Driveway
Walkway
Retaining Walls
Pool Deck
Patio
Fire Pit
Fireplace
Outdoor Kitchen
AREAS SERVED:
Spokane, WA
Coeur d'Alene, ID
Hayden, ID
Colbert, WA
Deer Park, WA
Freeman, WA
Harrison, ID
Post Falls, ID
Airway Heights, WA
Cheney, WA
Moses Lake, WA
EXTERNAL LINKS:
"
Clearwater Summit provided a complete remodel of our backyard: design, excavation, landscape, and construction. This included excavation for the new pool, irrigation, drainage, hardscapes for the pool deck, fire pit, new deck, outdoor kitchen lighting, and decorative plants throughout the yard. Clearwater Summit personnel were professional and courteous, communicated effectively, and went above and beyond (even sweeping and cleaning the street and sidewalks every day). Clearwater Summit located hard-to-find decorative pavers and integrated all of the elements in creating a true backyard resort! We love our new backyard as it has extended our outdoor living area. We highly recommend Clearwater Summit – as they exceeded our expectations and stayed within our budget guidelines.
"All About Family" project within Residential Renovations at Clearwatersummitgroup.com
"
"
Our company has enjoyed working with Clearwater Summit Group for many years. Their talented team of landscape designers takes a very creative approach in bringing their clients' outdoor living spaces to life. Whether your style tends toward traditional, craftsman or contemporary Clearwater Summit Group masterfully captures your ideas and turns them into reality. Their accredited installation crews will manage your job site efficiently, with the reliability and expertise you expect. Scheduling a consultation with this fine group of professionals will be time well spent.
http://www.landscapeandgarden.com/
"
"
I highly recommend (and have) Clearwater Summit Group. In July 2013 they landscaped the back yard of our newly built home. Although it was small project Clearwater was very responsive and enthusiastic about it. We had great customer service; they listened to what we wanted, answered our questions about the plan and made modifications we requested. Luke Schauer and his crew were professional and polite. The follow up was exceptional; Luke checked on the backyard several times during that summer, responded to our questions about certain plants. We decided not to make any adjustments until the spring of 14. Luke and staff came back this year to make several corrections and replacements at no additional cost. We love our backyard; it has interest in all 4 seasons. Plus we have attracted a variety of birds and Hummingbirds which was what we asked for in the landscape design.
"
PROJECT PORTFOLIO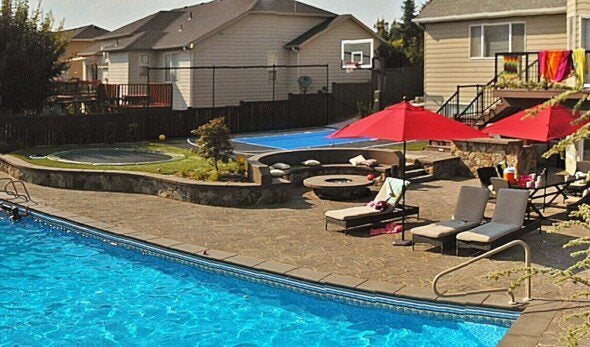 Poolside Living