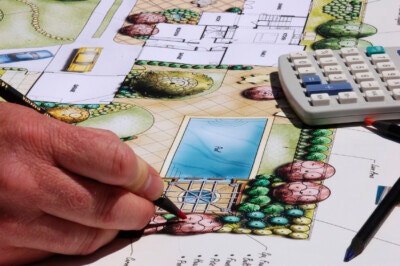 3D Brick Paving Co
Lorem ipsum dolor sit amet, consectetur adipiscing elit. Quod ea non occurrentia fingunt, vincunt Aristonem
ADDRESS
1000 Lee Street
Des Plaines, IL 60016
Fill out the form below to contact 3D Brick Paving Co
SPECIALTIES:
Belgard Hardscapes
Landscaping Design and Install
Luxury Custom Pool
Custom Masonry
Outdoor Fireplaces
Swimming Pool Remodels
EXTERNAL LINKS:
"
Ortus Exteriors – it was A++ service from the start.
After speaking with several pool builders – I called this company based off a favorable referral from a neighbor.
When I called – I was impressed to find that the owner of this company was the person who answered the phone. His name is Miles Humphries. I explained to Miles that we were ready to sign a contract on having a pool built and a fireplace/pergola installed with another company. I explained to him that if he wanted to have a chance of receiving our business – he would have to meet with us that Friday evening – because we were going to sign a contract that following Monday with another company. To my surprise – he stopped by that Friday night. He took some measurements of the backyard. He also truly listened to our vision. We met with him the next evening (Saturday). He had our pool, fireplace/pergola designed on a 3D CAD program. He was able to show us exactly what it was going to look like in our backyard. No other company we had spoken with had taken the time to show us what the pool would look like in our backyard – down to the tee. We could see the pool, pergola/fireplace exactly how it would be in our backyard. It was unbelievable. I was impressed.
I told him my wife and I would have our final decision that Monday. I also explained to him that evening how concerned I was about the damage that would be done to my front yard as the supplies were being brought in and the pool was being dug. I am very big on my lawn. He assured me any damage done to my lawn would be fully repaired/replaced after construction. Our home backs up to an elementary school. Remember – I haven't signed a contract with this guy yet. Anyway – that Monday he apparently called the school district and received permission to come through the back of my home via the school grounds. I don't know how he did it – but he did. He called and told me he would not have to come through the front and received permission from the school district to come through the back of my home via the school grounds – and that no damage would be done to my front yard at all. I knew then – this was the company for me.
Construction went as planned. During the build phase – Miles stopped by everyday. It is apparent he takes pride in what he does. If I ever had a question and had to call him – he was always the one who answered the phone. If i ever had to leave a message – he always called back within the hour. The service received was unbelievable.
We truly have a custom pool. It is not a stamped pool like you see with the national pool builders. I can assure you there is no other pool like mine in the United States. Our stone fireplace is beautiful. The pergola we had built is built directly into the fireplace. The workmanship is second to none.
Based off the quality of work done – we also had this company build us a new fence. They built us a custom outdoor entertainment center. They installed several new outdoor ceiling fans and installed a Bose outdoor speaker system. Again – all workmanship is unbelievable. I was also impressed that Miles personally signed off on all work done. If he wasn't happy (or if I wasn't happy with something done) – he would have his crew re-do it.
We finished our project with letting this company re-sod our entire backyard. We truly have a custom OASIS in our backyard. The final product is gorgeous. I wish I could post some pictures.
If you contact this company about any work – ask the owner Miles if you can see some pictures of my backyard – I can assure you he has some.
As stated – the service was second to none – and we couldn't be more happy with the final product. We truly have an OASIS out back.
Feel free to stop by the Casa Fisher OASIS!!!!
"
"
Ortus Exteriors just finished up for us an outdoor living area that is just great. Some of the features of it are beautiful stamped concrete, exposed cedar rafters for the roof structure and about 20 plus ft of outdoor kitchen. In the kitchen, it is equipped with a gas grill, gas griddle, a drop in ice chest (for the blender), side burners, and a storage feature all with high grade stainless steel.
Also in the midst of this, Ortus Exteriors built us a custom stone fireplace with a TV niche just above. The Rangers have never been so enjoyable to watch.
As the project rolled along, Miles, his staff, and I worked through what challenges that came along with ease. Ortus Exteriors, their crews and sub-contractors finished in a timely and professional manor.
Our outdoor living space will bring us pleasure and build many memories with friends and family for years to come. Now just need the weather to cool off so we can crank up that fireplace.
Best to you and your crew,
Ferrell Family / Rowlett TX
"
"
We just wanted to express our complete satisfaction in our new backyard. When we started
this project, I didn't really have any idea what I wanted. I knew I wanted a pool with
possibly a roof over it.
You being able to envision my dream and be able to put it on paper with your rendering
software… was just amazing. I took one look at it and said "That's it!" The plantings
you put around the deck were just the icing on the cake. We love the pool and the rustic
look of the roof structure. The lighting you suggested was all within our budget and it
just made the look. It's beautiful out there at night.
You are a miracle worker! You took our budget and made it all work beyond our
expectations. The quality of the equipment you use is much appreciated also. We know that
we won't have to replace any pumps or parts any time soon. That's a good feeling.
With each step of the way, you kept us completely informed of what was going to happen
next. You always called when you were coming out to check this or that and you always let
me know when someone was going to be here. Your workers are all top notch. Always
friendly and very polite.
I can't think of one thing that I'm not happy with from the start of the project to the
end. Well… except that I wanted it done in one day!
Thank you Miles… and I'm sure when we decide to do that fireplace near the deck you will
be hearing from us again.
Thank you!
Nathan & Helen Goodlet
"
PROJECT PORTFOLIO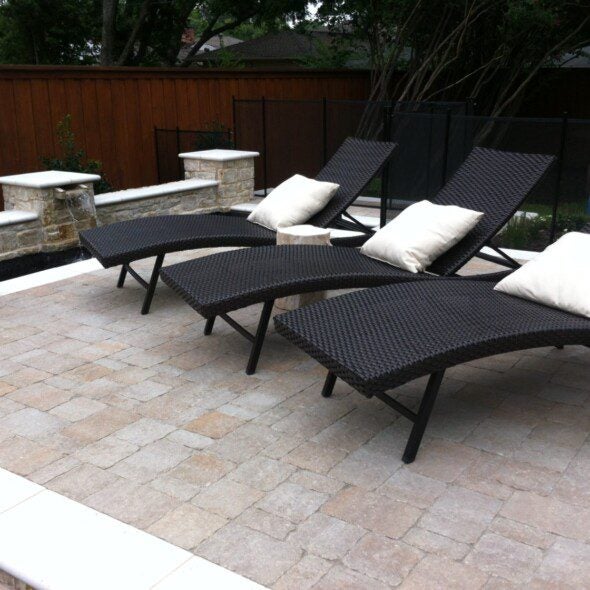 Outdoor Kitchen, Arbor, Pool, and Lounging Area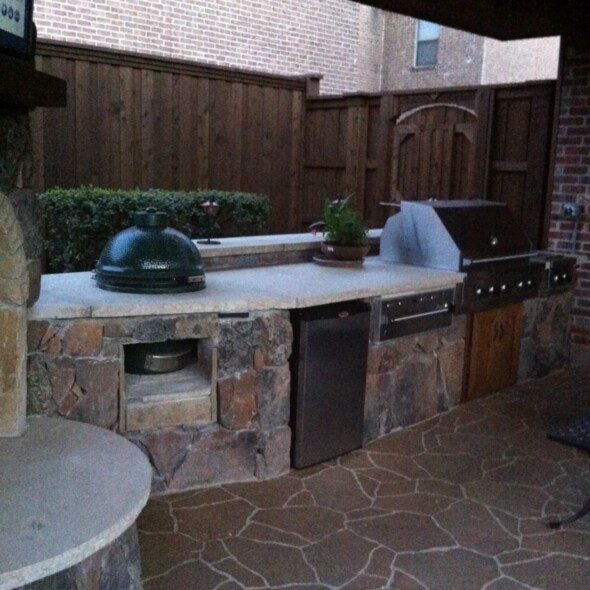 Kitchen, Arbor, and Mega-Arbel Pavers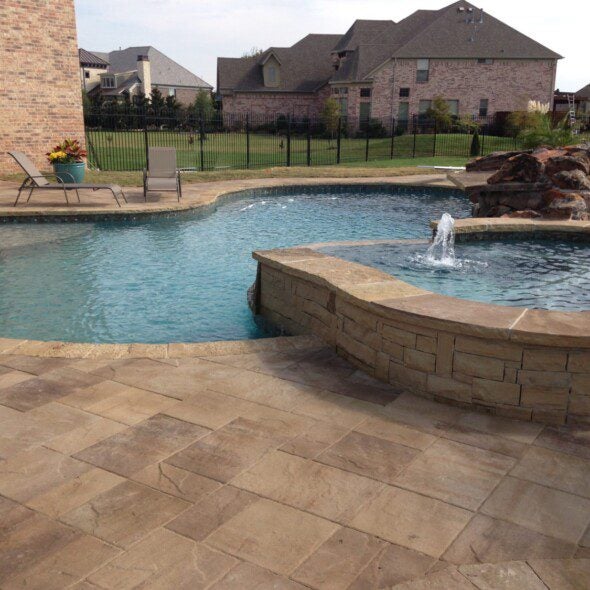 Heart-Shaped Spa, Roof Structure with Fireplace, and Pool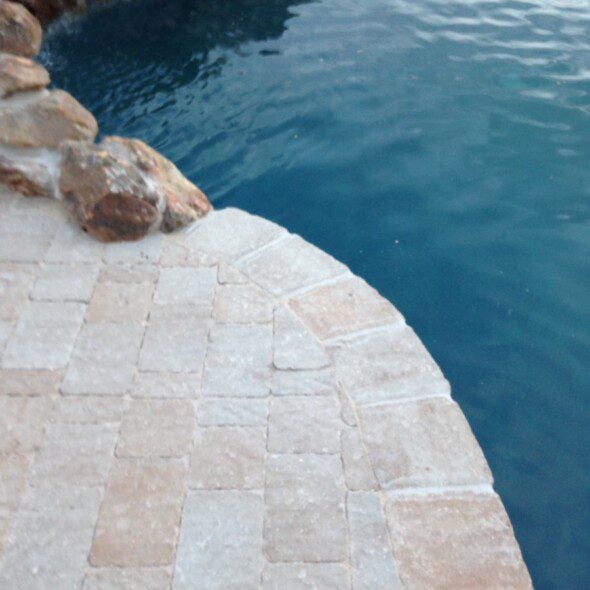 Pool with Rocky Waterfall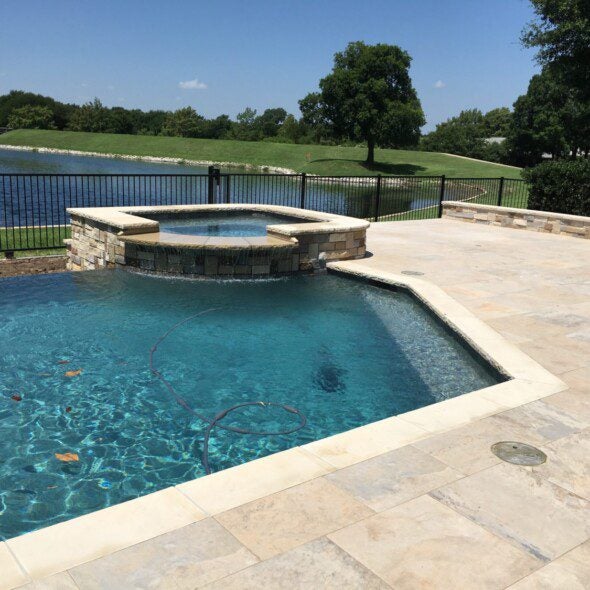 Geometric Pool and Spa