If you're planning an outdoor gathering during the cooler months, it's always a good idea to have some hot toddy recipes on hand. With the holiday season ahead, we've pulled together some special toddy recipes that will not only help keep your family warm, but will add to the festive atmosphere.
SPIKED PEPPERMINT HOT CHOCOLATE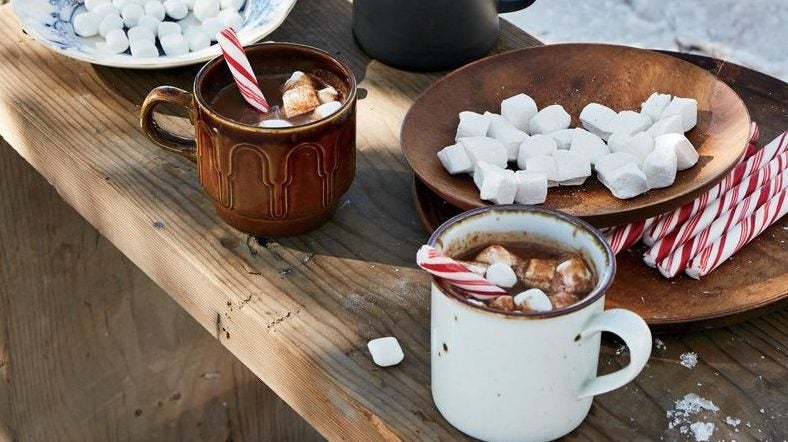 Think of this as more of a dessert than a beverage, but with a little peppermint schnapps to add some holiday cheer. Coconut milk adds an extra splurge of indulgence that pairs nicely with the chocolate and mint.
Ingredients
2 (13.5 oz.) cans light coconut milk
2 cups 2% reduced-fat milk
3/4 cup unsweetened cocoa
1/2 cup sugar
1 teaspoon instant espresso powder
1 teaspoon vanilla extract
dash of kosher salt
1/2 cup peppermint schnapps
Optional garnish: peppermint sticks and miniature marshmallows
Preparation
Whisk together the first 7 ingredients in a large saucepan. Heat over medium until very warm.
Remove from heat; stir in schnapps.
Garnish with peppermint sticks and marshmallows, if desired.
APPLE-CRANBERRY WASSAIL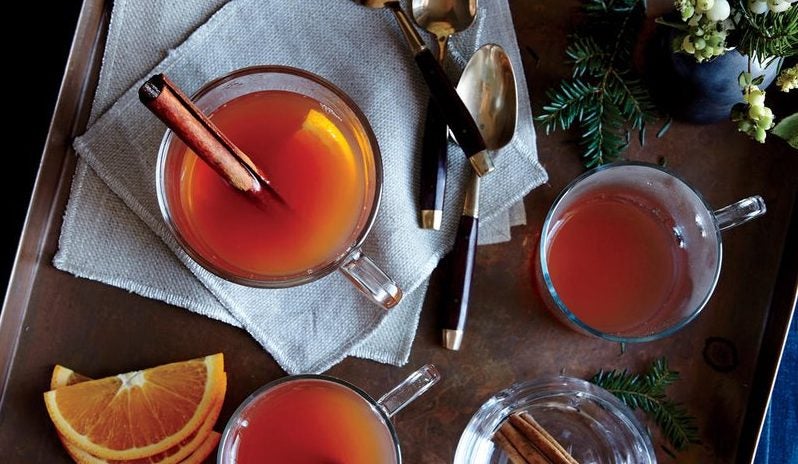 For those who like to go a-wassailing, this festive holiday beverage calls for dark rum but works equally well with bourbon. Or, omit the alcohol altogether for a kid-friendly version that can be enjoyed by the whole family.
Ingredients
2 quarts apple cider
1 quart cranberry juice cocktail
1/2 cup honey
18 whole allspice
8 whole cloves
4 (4-inch) cinnamon sticks
1/2 vanilla bean, split lengthwise
3 (1-inch wide) strips orange rind
3 (1-inch wide) strips lemon rind
1 1/4 cups plus 2 tablespoons dark rum
Preparation
Combine cider, cranberry juice and honey in a 6-quart electric slow cooker.
Place allspice, cloves and cinnamon sticks on a double layer of cheesecloth. Gather edges of cheesecloth together, tie securely, and place in the slow cooker.
Add vanilla bean and citrus rinds; cover and cook on LOW for 5 hours.
Remove sachet, vanilla bean and citrus rinds from the slow cooker; discard. Pour in rum and reduce temperature to WARM. Cover and serve directly from the slow cooker.
LEMON-PEAR TODDY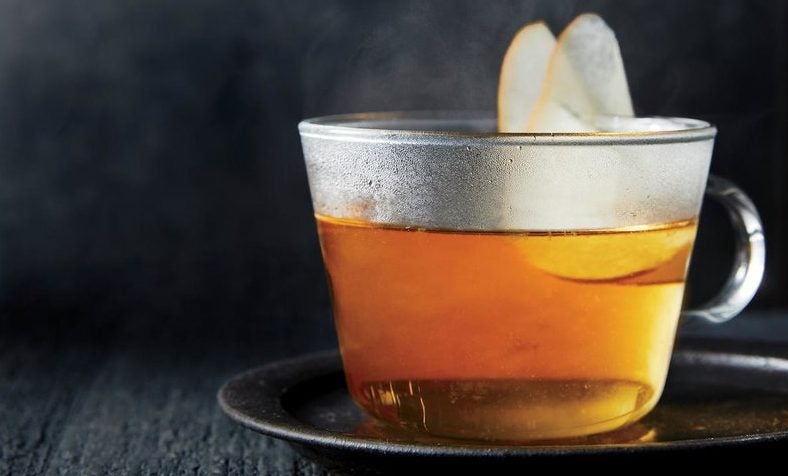 This hot toddy is on the lighter side and comes together in a flash, thanks to the microwave. A little fresh lemon juice adds a bright top note and balances the sweet pear flavor by adding a light tang.
Ingredients
1 1/2 cups water
1/4 cup sugar
1/8 teaspoon kosher salt
3/4 cup pear vodka
1/4 cup brandy or cognac
2 teaspoons fresh lemon juice
1/4 teaspoon vanilla extract
Optional garnish: thinly sliced pear
Preparation
Combine water, sugar and salt in a small microwave-safe bowl; microwave on HIGH for 2 minutes or until boiling. Stir to dissolve sugar and water completely.
Stir in vodka, brandy, juice and vanilla. Garnish glasses with pear slices, if desired. Serve warm.
SMUGGLER'S COFFEE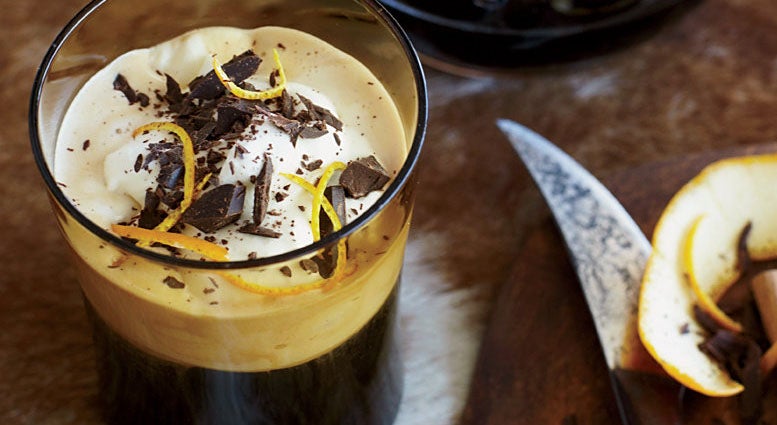 Or, maybe it should be called Snuggler's Coffee, since this double-rum beverage is perfect for snuggling by the fire pit. But the addition of cinnamon and orange zest also adds that holiday twist that makes it work equally well for holiday gatherings.
Ingredients (single serving)
1/2 cup hot coffee, strong
2 teaspoons sugar
1 once gold rum
1 once dark rum
1 small cinnamon stick
1 long strip of orange zest
Optional garnish: finely grated orange zest, canned sweetened whipped cream, grated Mexican chocolate
Preparation
In a heatproof glass, stir the coffee and sugar until the sugar dissolves.
Stir in both rums, and add the cinnamon stick and strip of orange zest.
If desired, garnish with whipped cream, grated Mexican chocolate and grated orange zest.
Images courtesy of Time, Inc.