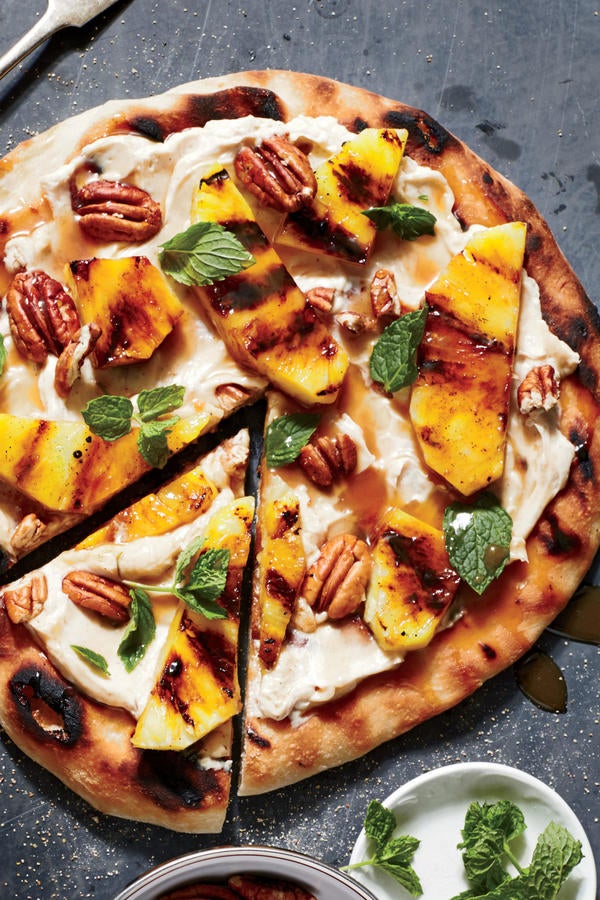 Whether you're talking about flatbread with caramelized onions and shiitake mushrooms, a grilled fruit dessert pizza, or just good old-fashioned pepperoni and cheese, once you try cooking pizza on the grill, you'll never want to cook pizza indoors again.
The Shortcut Method
If you're in a rush, you can actually place a store-bought ready-to-cook pizza on a hot grill for around the same length of time you would cook it in the oven. Be sure and rotate it occasionally so that it cooks evenly, and keep an eye on it so that the crust doesn't burn. Whether you're a using gas or charcoal grill, or a wood fired brick oven, the end result will be a nice crispy crust that is much more flavorful than a pizza cooked in a standard indoor oven. As a bonus, using charcoal or wood chips will help give it a gourmet smoky flavor.
Create-Your-Own Grilled Pizzas
If you have a few extra minutes, creating your own grilled pizzas is so much more fun than using a pre-made pizza! Everyone can be involved in the prep process and enjoy experimenting with combinations of their favorite ingredients. You can go low-tech by buying pre-baked pizza crusts, get a little more adventurous with ready-made pizza dough, or go full-on gourmet by making your own pizza dough at home. You can even make mini-pizza crusts by taking a can of biscuit dough and flattening each biscuit out into a 4-6″ circle.
Pizza Pans Versus Directly on the Grill
If you like your dough more crispy, place it directly on the grill, or use a vented pizza grilling tray. For thicker, softer crusts, use a cast iron pizza pan. If properly seasoned and cared for, the cast iron pan will actually hold more flavor over time, making each crust tastier than the last. If putting raw dough directly on the grill, be sure and spray cleaned grates with cooking spray prior to lighting the pit to keep the dough from sticking, and cook the dough for 3 to 4 minutes prior to adding your toppings. For mini pizzas, a cooking pan or tray would be preferable, just because of the size.
Gourmet Grilled Pizza Toppings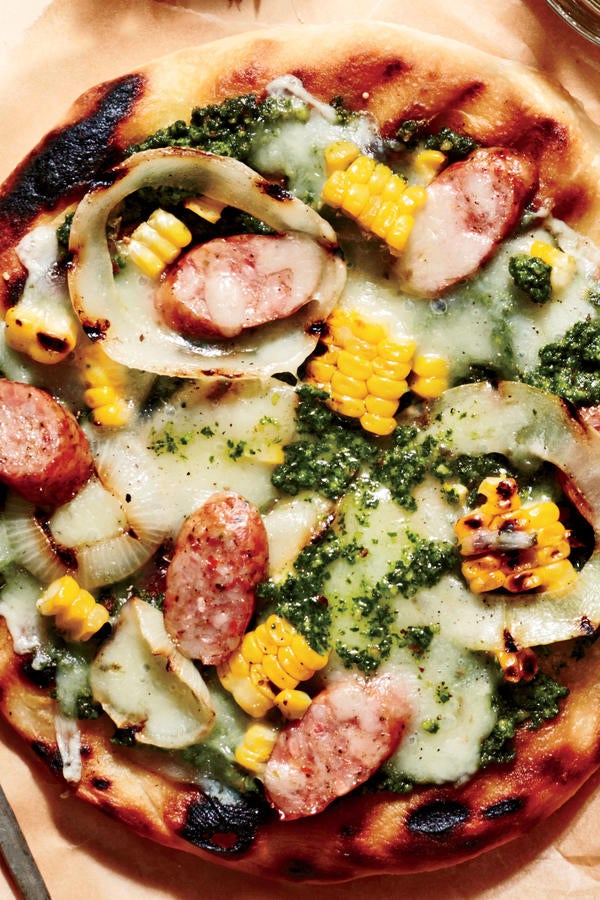 If you're making an afternoon of it, you may want to considering pre-grilling some toppings to put on your pizzas. Grill-worthy toppings include chicken, ham, shrimp, pineapple, smoked sausage, corn and garden vegetables. In addition to these grilled toppings, other gourmet topping ideas include artichoke hearts, spinach, banana peppers, caramelized onions, roasted garlic, kalamata olives and fresh herbs. Of course, don't forget the pepperoni, or the kids may revolt.
For a fun family activity, create a "pizza bar" prep station where each person can create his or her own fabulous pizza. For sauces, you can offer traditional pizza sauce, pesto, olive oil, BBQ sauce and buffalo wing sauce. For cheeses, offer mozzarella, goat cheese, feta cheese and crumbled blue cheese. If you want to finish off your pizza-palooza with a yummy dessert pizza, check out our recipe for grilled dessert pizza.
Happy grilling!
. . .
Grilled pizza photos courtesy Time, Inc.