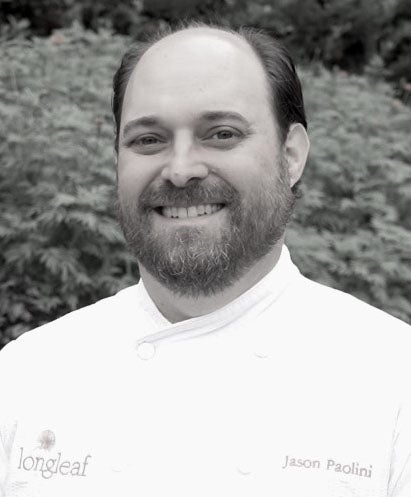 Enjoy this grilling recipe as part of Belgard's salute to National Grilling Month.
. . .
I love the Polynesian Pork Chops from Omaha Steaks. They are the perfect size, and the flavor is delicious. The Pineapple Salsa should be done in advance to allow it to marinate. For the squash and zucchini, I always try to buy local first. If I can't find local I buy organic. I really enjoy this dish — the combination of the Pineapple and Pork Chop together is incredible!
Pineapple Salsa
½ Pineapple
2 tablespoon Creole seasoning
5 small Sweet peppers or 2 big sweet peppers
2 ea Limes, juiced
2 tablespoon chopped cilantro
Make the Pineapple Salsa first as this will take the time and it is better to let it marinate for about 30 minutes before serving.
Remove the outer skin of the pineapple and slice around the core to leave you with big planks. One side of the pineapple should be flat.
Season the flat side of pineapple with creole seasoning and place on the grill on high heat. Leave the pineapple on the on side the entire time you are cooking it to allow the pineapple to blacken and char. It will take about 10 minutes.
While the pineapple is charring, toss the sweet peppers with vegetable or olive oil and place on the grill. Turn once or twice to allow the skin of the peppers to blister.
Once the pineapple and peppers are cooked, remove them from the grill and let cool to room temperature.
Dice the pineapple and peppers with all the charred bits and place into a mixing bowl.
Add the juice of 2 limes and chopped cilantro and mix together.
Pork Chop
Do not add additional seasoning to the Omaha Polynesian Pork Chop as it is already seasoned. Drizzle with vegetable or olive oil and grill to desired temp on high heat. I prefer my pork chops medium.
Squash and Zucchini
Squash and zucchini are a staple of summer time cooking, and they grill up wonderfully. I always like to source locally grown vegetables, and you can usually find Squash and Zucchini grown near your location
Slice the squash and zucchini into thick slices, season with salt, pepper and vegetable oil and place on the grill. Allow the squash and zucchini to cook for about 4 minutes on each side.
To Plate
Place the squash and zucchini on the plate, then the pork chop and top with the pineapple salsa. Enjoy!
. . .
For grilling tips and more recipes, check out our Recipes for Company library. For a chance to win a FREE Belgard Grill Island plus a 12-month subscription to Omaha Steaks, click the image below. No purchase necessary.