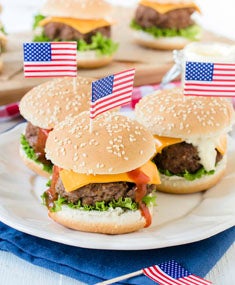 Summer is a time for living and entertaining in your outdoor living spaces. Whether it's the Fourth of July or just an average summer day, we Americans tend to spend the day focused on what we are known for: eating. Nothing like celebrating our independence by eating like the free men, women and children that we are. This year, maximize your freedom of food choice by setting up a slider bar on your patio or in your outdoor kitchen. Sliders are smaller than regular burgers, which will allow you to try a few different kinds at once. Here are a few ideas to get you started.
Nice Buns
The most underrated part of the burger: the bun. A bun can either make or break your burger. While the sesame seed bun is probably the most iconic bun out there, there are also several other types of buns.  From Kaiser rolls to English muffins to croissants, be courageous with your bun choices. An excellent option is King's Hawaiian sweet rolls, which are the perfect size for sliders and add a little extra sweetness to every bite.
To Beef or Not to Beef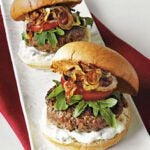 Ah, the heart of the burger, the meat. You could go traditional with ground beef, or you could even try chicken, turkey, or pork — or all of the above. When you're going with a non-traditional slider, you can either grill cuts of meat or ask your butcher to grind the meat. Another option is to make pulled pork by cooking a Boston butt in the crockpot. Simply liberally season the butt with salt, pepper, garlic powder, brown sugar and apple juice, then cook it until the meat pulls apart. Is so easy, yet so good! There are also plenty of vegetarian options. You could try a portobello mushroom cap in lieu of meat, or you could pick up black bean burgers from the frozen food section of the grocery. Who knows, you may even have your meat-lover friends trying to swipe your veggie burger away from you.
It Actually IS Easy Being Cheesy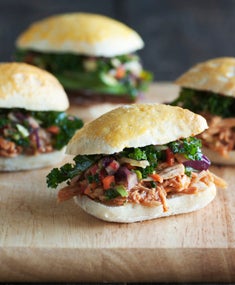 For those of us who require cheese on our burgers, make sure to have plenty of cheese options for your slider bar. American is always a classic, especially on the Fourth of July. But feel free to experiment a little. Excellent choices include pepper jack, Swiss, feta, blue cheese, goat cheese and Havarti. If you want to be really adventurous, check out the gourmet cheese section of your grocery store and look for something interesting, like a Melkbus with black truffles. Mmmmm.
Veggie Tales
A good burger always has its fair share of veggies on it. Sure you could do the ole lettuce and tomato, but we're trying to provide freedom of slider choices here. Try also providing an assortment of options like sprouts, arugula, sauteed mushrooms, caramelized onions and roasted red peppers. Grilled fruits (like pineapple or mango) also make a great addition.
To Top it Off
No burger is complete without that special sauce. Ketchup and mustard are fine, but if you haven't caught on yet, we're trying to be a little different. On your sliders, try topping them with sauces such as sriracha, creole mustard, cilantro mayonnaise, hummus, any of the different flavors provided by Tabasco, or just doctor up some "secret sauce" in the kitchen.
Would You Like Some Fries with That?
Finally, we need a side dish or two to round out those slider options. Since a burger bar can be pretty labor-intensive, you may want to try and keep the sides easy. In fact, whatever you can do to prep ahead of time will keep you from spending the day chopping while everyone else is having fun. So keep it simple when it comes to the sides. Grill some corn on the cob, heat up some baked beans, grab a bag of coleslaw, or just throw some frozen fries in the oven. Honestly, no one is going to care about the side dishes because they'll be filling up on yummy gourmet sliders.