Sometimes it's that one piece of equipment that puts you ahead of your competitors. This month's Contractor's Corner blog looks at some of our favorite must-haves for the residential hardscape contractor preparing for 2016.
.   .   .
This Year's Holiday Wish list
Aerial Video Drone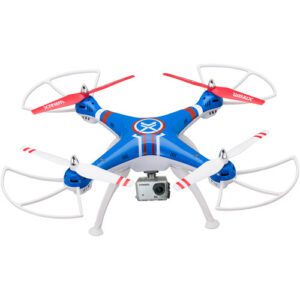 It's not just a totally cool piece of equipment, it's also an awesome selling tool. Don't just take photos of your completed projects, bring them to life with fly-through videos that you can add to your company website or Facebook page. Showing videos to homeowners on an iPad will allow them to virtually walk through a design and see it from every angle, potentially visualizing how they would live in that space at their own home. Inexpensive drones are available just about everywhere, but if you're a serious shopper, read PC Magazine's Best Drones of 2015.
.   .   .
Paver Slab Vacuum Installer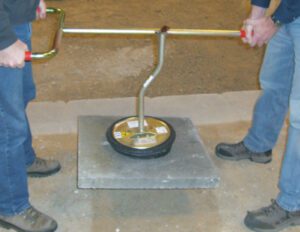 Larger format pavers are widely popular right now, but installing them can be a tedious and strenuous process. Speed installation of large pieces and minimize worker fatigue with vacuum installation equipment specifically designed for paver slabs. Check out the Mammoth VH from Pave Tech®, which comes with two different handle sets: one for single workers, and one for lifting by two workers.
.   .   .
Paver Placer™ Installers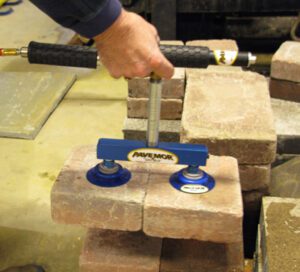 I know what you're thinking…Now that I have a more efficient way to install the big pieces, what about the smaller ones? Have no fear, PaveMor™ is here. They offer a line of hand-held paver installation machines that hook up to a standard air compressor to speed installation and reduce workplace injuries. The model pictured here can be used to pick up one standard sized paver or two smaller units at once.
.   .   .
iQ Dustless Saw
Anyone in the paver industry knows that cutting pavers or wall block creates a cloud of dust. Overexposure to silica dust can cause serious health problems, but wearing a respirator can be a pain — not to mention the cleanup required from the dust and slurry. If you want to see the difference a dustless saw can make, click to view this video.