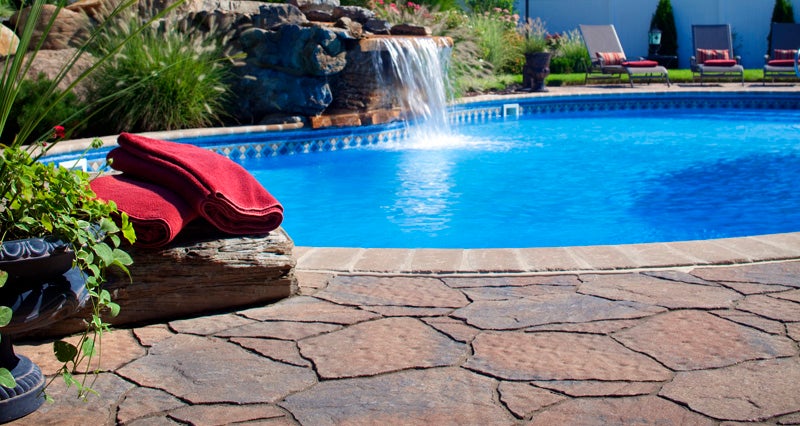 Where does your mind go when thinking about summer? Maybe you imagine relaxing on the beach or taking a trip to the nearest water park. Something about spending time outside in the water and sun just screams, "It's summer!" However, thoughts of beaches and water parks also scream, "Time and money!!" This summer, try using a more convenient method for soaking up rays and hanging out in the water. The idea is very simple: put on your favorite bathing suit and then walk right into your backyard. Remember that giant and expensive hole in your yard that you filled with a large amount of water? Believe it or not, it's not just a lovely water feature. You're allowed to use it! Here's the best part: you can use it whenever you want! Here are a few ideas to help you get the most from your pool this summer.
GAMES FOR THE KIDS
Most kids enjoy playing "Marco Polo" or "Sharks and Minnows" in the pool. While that's all well and good, how about trying a few different games with the kids this summer. Just remember that all games should be supervised by an adult.
Ping Pong Scramble:
This is almost like the pool version of hungry hungry hippos. Have the kids form a large circle and then dump a container of ping balls in the middle of the circle. Kids can use socks, party cups, or even plastic bags to collect the balls. The player with the most balls wins.
Watermelon Relay:
You may not know this, but watermelons float. Split the group into relay teams. Have each contestant swim across the pool pushing a watermelon, handing it off to the next person in line. The team who finishes first wins. And when the game is over, carve up the "game balls" for a tasty poolside treat!
Paper Boat Races:
Making a paper boat is simple, but if you don't remember how, there are many instructional videos on YouTube. To stretch the time, you can first have the kids decorate their pieces of paper with crayons before folding the paper into boats. Once the boats are built, turn the pool pump on to create a current for racing the boats around the pool. For added fun, kids can create "wind" by blowing on the boats, or they can use their hands to create "waves" to propel the boats. Just remember that if the boats get too wet, they will sink or fall apart. But that's ok, just make some more for the next race!
FUN WITH FAMILY & FRIENDS
Water Volleyball:
This activity is usually reserved for larger families or several guests who don't mind getting a little physical. Pool nets and a volleyball are a relatively inexpensive purchase, and the setup is easy. Just pick your teams and try not to swallow too much water when grandma accidentally takes you out while diving for a loose ball. If you want to get really into it, and have the right amount of people for it, set up a tournament and go out and buy a cheap trophy to give to the winning team. This can easily become your next family or group tradition.
Floating Cocktail Party (21+):
When the kids are away, the adults will play. Invite some friends over for an afternoon or evening of relaxing adult-filled activities. Open a nice bottle of wine, try that new martini recipe you found the other day, or simply bust out a few beers. Most importantly, do it from the comfort of your pool, floating on your favorite flotation device. You can even purchase a floating ice chest or cocktail caddy for your bar-tending convenience. For ambiance at evening gatherings, add some floating lights. For safety reasons, make sure to use only shatterproof glasses while around or in the pool.