It's that time of year again where we set aside a day to say, "Thank you," to that hard working man in our lives: Dad. The only problem with Father's Day is that many of our fathers are humble guys who often say that they don't want anything special. This year, tell Dad "Tough luck," and do something special for him anyway. Here are a few ideas you can do for the "old man" this Father's Day that will surely bring a smile to his face.
.   .   .
Gourmet Burger Bar
Sure, Pop probably barbeques burgers regularly. However, ketchup, mustard, lettuce and tomato can get boring. This Father's Day, stock up on new ingredients to add to your burgers and setup a gourmet burger bar. Here is a quick list of items to get you started. Don't be afraid to experiment with other toppings that are not listed here. The idea is to just try something new. Have fun experimenting with any sort of possible topping. Examples included avocados, over-easy style eggs, sprouts, various greens, caramelized onions and mushrooms, and literally any pepper that comes to mind. While the grill is hot, try grilling some fruit toppings, like pineapple or peaches. Next up, the cheese layer. Sure, you'll need standards like American, cheddar, and swiss, but don't be afraid to mix it up a little with something like pepper jack, gouda, havarti, blue cheese, and goat cheese. Then the coup-de-grace, the sauces. Here's where you really get to have a little fun. Options include wasabi mayo, humus, honey mustard, Boursin sauce, garlic aioli, and (don't laugh until you've tried it) peanut butter and jelly. And, what shall all of these delicious toppings rest upon? Try different types of buns: onion, poppy seed, rosemary focaccia, or brioche would all be excellent options. Check out your local gourmet grocery or bakery for more ideas. The point is to try something different. Dad may find his new favorite burger after all is said and done.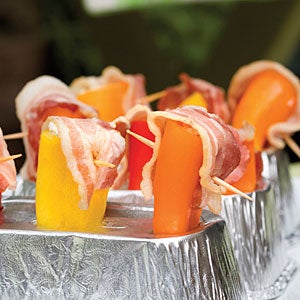 On the Side, Dad Style
Whether we like it or not, most dads are starch fans, so be prepared to starch it up with some dad-friendly side items. Dishes like potato salad, baked macaroni, and loaded baked potatoes come to mind. But, you can also get dad to step outside of his norm a bit by adding some grilled vegetables to the table. One idea is to stuff peppers with gourmet cheeses from your burger bar and grill them. To make it a little more dad-friendly, you can always add bacon. For other grilled fruit and veggie ideas, check out our "Garden to Grill Ideas" blog.
Microbrew Tasting
What is simpler than burgers and beer? Both cooking burgers and drinking beers are two of the favorite pastimes for many American men. While your father may have his beer of choice, most likely something he learned to love in college, it may be time to broaden his horizons. Make it festive and set up a microbrew tasting table. Visit your local specialty liquor store and get a variety of samples from around the country. Many specialty stores will have a wide variety of single beers for sale or will allow you to break a six-pack for the purpose of doing a sampling. If not, plan ahead and order from an online distributor. It also will be helpful if you have small drinking glasses or shot glasses at your BBQ for beer sampling.