If you're looking for a way to create unique curb appeal for your home, a paver driveway can present endless opportunities to add flair and individual personality to the entrance of your home through the use of various color combinations and laying patterns. This week's blog will illustrate a few ideas for creating eye-catching driveway designs with paver patterns.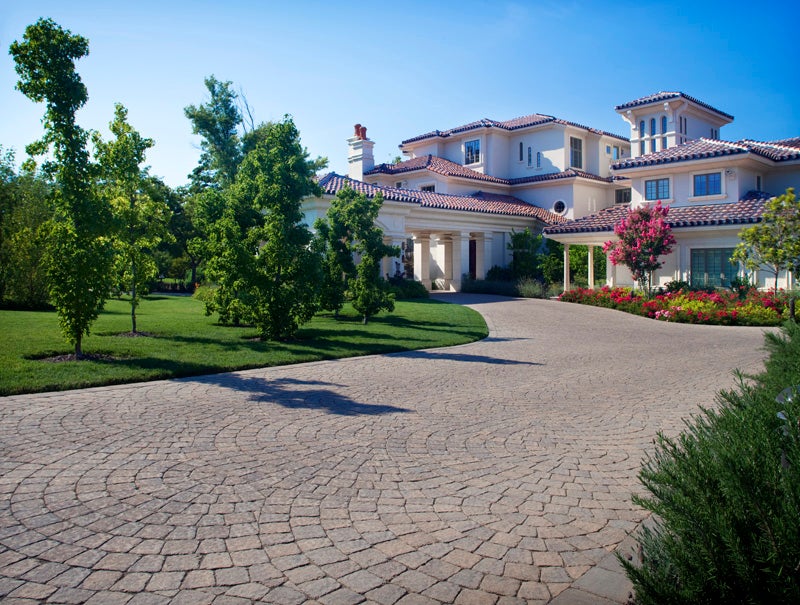 The intricate fantail design above was created using the hand-cobbled look of Bergerac® pavers and adds a whimsical touch to this elegant driveway.
Contrasting colors of Urbana® Stone pavers were used to create a contemporary design of interlocking geometric shapes for the parking pad of the driveway above, as well as add a striking border to both the drive and garden bed.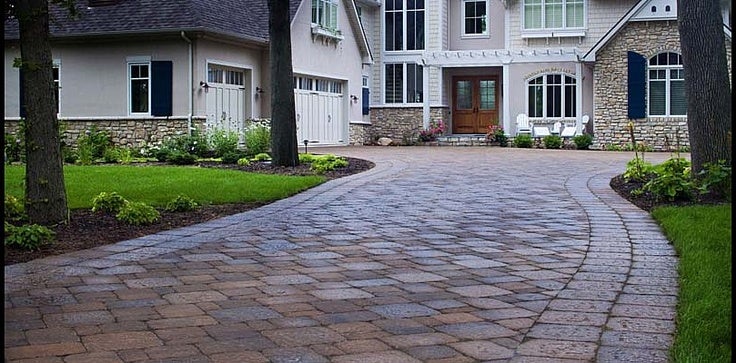 Contrasting patterns of Mega-Bergerac® pavers add interesting detail to the driveway above. The main field of the driveway utilized a four-piece random pattern laid at a 45-degree angle. The border was created by laying only the rectangular piece in a double soldiers course.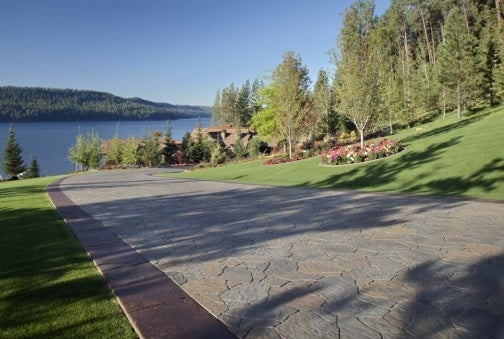 For the above driveway, irregular-shaped Mega-Arbel® pavers were used to create a natural flagstone look that seamlessly coordinates with the surrounding picturesque landscape. To add a tailored feel, the pavers were edged with stamped concrete stained in a contrasting color.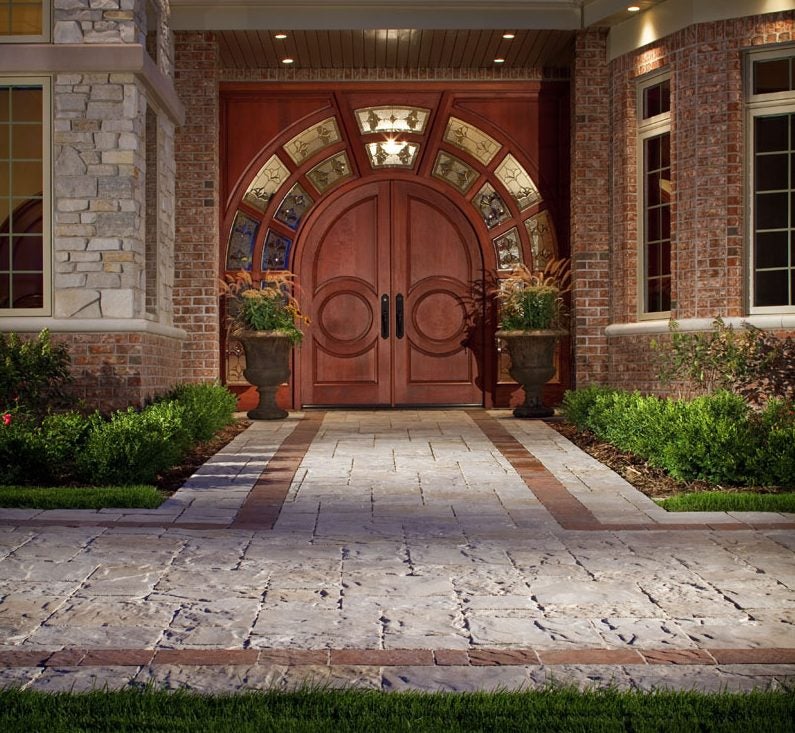 Different paver products can also be combined to create visual interest or coordinate with architectural detail. For the above driveway, Mega Lafitt™ pavers offer a cut stone texture and were chosen for the main field in a color that mimics the stone veneer of the home. A contrasting color of Urbana® Stone creates a striking border and mimics the color of the brick.
This contemporary driveway uses a modular ashlar pattern of Rinn™ Medino® pavers, augmented with a custom carriage drop design consisting of a double Bergerac® Circle inlaid with a mosaic stair created using the Rinn™ Medino® pavers.
This eco-friendly driveway also uses an ashlar pattern, but it's laid at a 45-degree angle to create more visual interest. The permeable Eco Dublin® pavers are used in contrasting colors with a triple border and inlaid stripes to create an ultra-contemporary vibe.
. . .
For more eco-friendly driveway ideas, read our blog on Permeable Paver Driveways.