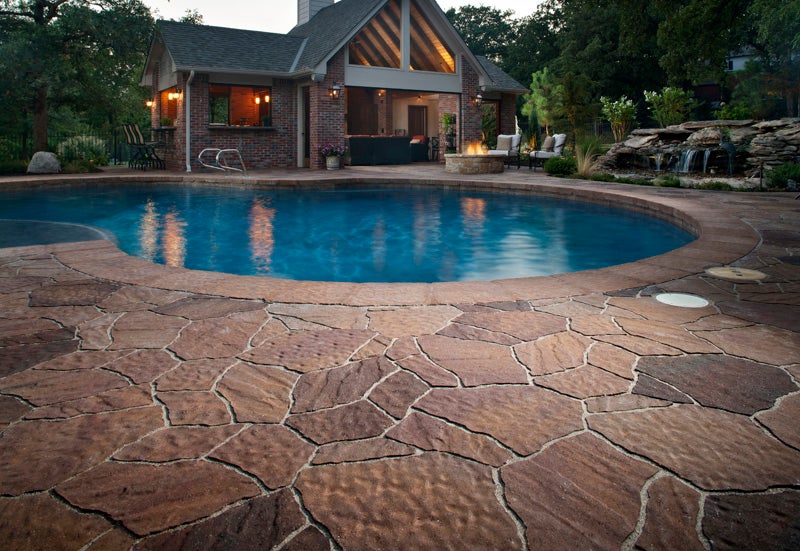 With the polar vortex sending frigid weather throughout the country, it's hard to think about swimming pools. However, now is the time to dive head first into planning mode if you want to have everything ready for that end-of-school pool party.
Step 1: Get inspired
Start thinking about what type of design you want. Gone are the days of the boring rectangle surrounded by a simple concrete pad. With all of the colors, textures, and multidimensional design elements available today, the possibilities are literally endless. So grab your mouse, head to our pool deck Pinterest board or the Belgard Design Studio, and start working on working on some ideas.
Step 2: Think long-term
Is the pool the only missing element in your long-term outdoor living plan for your home? If not, think ahead to save yourself some major headaches. For example, if you intend to add a cabana, outdoor fireplace, or outdoor kitchen later on, plan to discuss that with your contractor so you can address the need for future utilities or footings, which could save you a lot of time and money in the long run.
Step 3: Find a qualified contractor
This is definitely a situation when you do NOT want to make a choice solely on cost. There are a lot of bad pool contractors out there who can put in a cheap pool and disappear. Then, when it cracks and leaks into the yard or the pump dies due to faulty materials or wiring, you could find yourself in a remediation situation that's much more costly than putting the pool in correctly the first time. Our contractor locator page is a good place to start. Many of our authorized hardscape contractors are also pool contractors. If the Belgard contractors in your area do not build pools, they can typically make good recommendations.
Step 4: Design phase
Now the fun part…making decisions. An experienced contractor will be able to guide you through this process. The most important thing to remember during the design phase is to pick what YOU like. Forget what Aunt Tilda and your carpool friends say. If you like it, do it. You're the one paying for it and the one who will be swimming in it. Trust your contractor's experience regarding what works well and what doesn't. In the end, stick to your guns on a design feature that you really love, or you'll regret it later.
Step 5: Develop a construction plan
Most of these details can be worked out with your contractor. Your start date will typically depend on mother nature and the permit office. The construction time can take anywhere from 3 to 8 weeks, depending on the type of pool, complexity of design, and weather. Be prepared for a muddy mess for a little while. You may need to make alternate parking arrangements for your family to avoid blocking construction access. You will also need to consider some type of bathroom access for the construction workers. Lastly, you may want to bring your neighbors some cookies and invite them to the pool christening party as a gesture of goodwill for all of the construction noise and traffic.