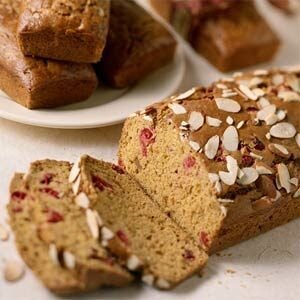 This month's recipe is a healthy and delicious quick bread that will help you get a headstart on your New Year's resolutions. Perfect for baking in either a traditional or brick oven, this dish works well as either a breakfast item or an after-dinner treat both before and after the holidays. Wrapped in cellophane with a twine bow, it also makes an excellent homemade gift for the neighbors.
2 1/2 cups all-purpose flour
1 cup firmly packed brown sugar
1 1/2 teaspoons baking powder
1/2 teaspoon baking soda
1/2 teaspoon salt
1/4 teaspoon ground cinnamon
1/4 teaspoon ground nutmeg
3/4 cup no-sugar-added canned mashed sweet potato
3/4 cup egg substitute
1/3 cup orange juice
1/4 cup margarine, melted
1 cup chopped cranberries
Cooking spray
2 tablespoons sliced almonds
.  .  .
Preparation
Preheat oven to 350°.
Combine first 7 ingredients in a large bowl; make a well in center of mixture. Combine sweet potato, egg substitute, orange juice, and margarine in a bowl; add to dry ingredients. Stir just until moist. Fold in cranberries.
Spoon batter into a 9 x 5-inch loaf pan coated with cooking spray; sprinkle almonds over batter. Bake at 350° for 1 hour and 10 minutes or until a wooden pick inserted in center comes out clean. Let cool in pan 10 minutes on a wire rack; remove from pan. Let cool completely on wire rack.
.   .   .
Image and recipe courtesy of cooking light. photo by howard l. puckett.