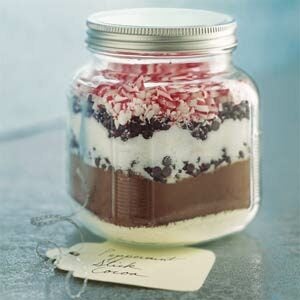 If you're looking for a festive way to kick off the holiday season, we have the perfect cocoa recipe that is a delicious fireside treat and makes a stylish holiday gift. Prepare multiple containers at once, and you'll never show up to a party empty-handed. Curl up with a hot mug and a blanket for a quiet night escaping the holiday rush, or enjoy with friends around the fire pit.
1 cup powdered milk
1 cup unsweetened cocoa powder
1 cup granulated sugar
1/2 teaspoon salt
1/2 cup miniature chocolate chips
1/2 cup crushed peppermint candy
Preparation
In a clear mason or decorative jar, layer powdered milk, cocoa powder, sugar, salt, chocolate chips, and peppermint candy.
notes
This mix will fill a 1-quart jar (12 servings), but if your containers are different sizes, just keep the ratio of ingredients constant.
On the back of the tag, write: "Mix contents in a large bowl. For each serving, place 1/3 cup cocoa mix in a mug and stir in 1 cup boiling water. Store remaining mix in airtight container."
Image and recipe courtesy of Sunset Magazine. Photo by David Prince.