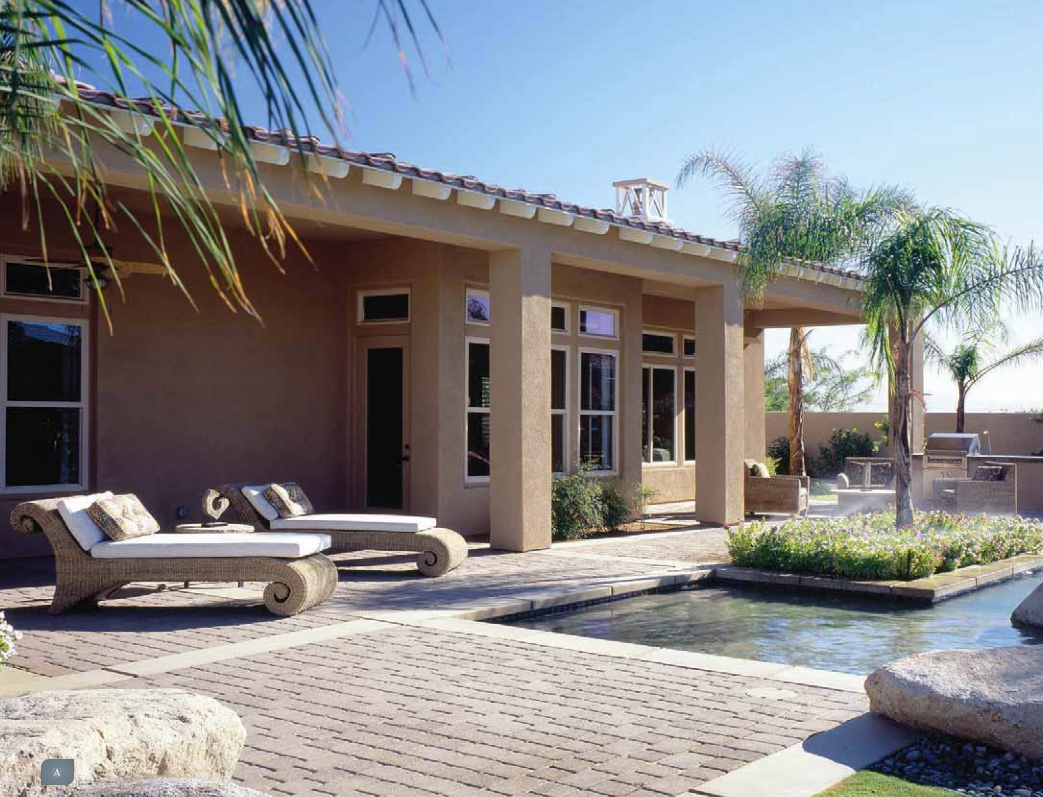 So, you've decided to install a hardscape. We don't blame you—they're great! Hardscapes can add beauty and value to your home, not to mention more enjoyment. They're versatile, convenient, and fun!
While hardscapes are a great addition to any home, the installation process can be a doozy – especially during the planning phase. With those early first steps in mind, we have some tips for planning your hardscape, as well as some questions you should consider. So take a deep breath… soon you'll be enjoying your new outdoor living space!
Make a Plan
First things first- you need to have a plan. When designing your hardscape, make sure you plan for the entire area, even if you're not hardscaping all of it immediately. If you sketch out the whole yard, you'll have less to do when you want to add on projects.
Planning in full also helps with consistency. Say you're putting in a pool. Down the road you may want to install a porch. If you don't plan for this space, you're going to run into issues… the porch may not be possible with the pool's location and size, or may look funny if the pool isn't properly placed.
In your sketch, be sure to mark off major features, like your house or that favorite tree you just can't live without. Be aware of view lines. Your hardscape isn't enjoyed only from the outside, but also from the inside! You don't want to look out your window and be staring at the back of your grill…. so be aware of where you place utilities and other features.
Keep greenery in mind, too. Gardens and yard patches provide a nice balance to hardscapes. Grass gives a respite from hot surfaces in the summer, a place for pets, and a play area for children. Gardens can provide a pop of color and are a good way to implement nature into your hardscape. If you need gardening ideas, check out our gardening tips to beautify your hardscape.
Determine Your Budget
This one might seem like a no-brainer, but sitting down and determining your budget helps you make a lot of decisions about how to proceed with your hardscape. For example, can you build out the whole area? Or, would it be wiser for you to break your hardscape endeavor into smaller projects? Will you do the work yourself, or will you hire a contractor? Budget can also help you determine which materials to use.
Having trouble justifying your budget? Keep in mind that a beautiful hardscape can easily raise the value of your home. Get an appraiser to estimate the value added to your house by installing a hardscape, and you'll be surprised! You might just find that you want to budget a bit more for that patio than you thought you did.
Choose Your Materials
Budget helps with this decision, but shouldn't be the only consideration when choosing your materials! You should also consider durability and style. Are you going for a natural look? If so, consider incorporating wood into your design. Be sure to note that wood will require upkeep and is prone to weathering. If you're looking for a more hands-off approach to your hardscape, you might want to choose a more durable material.
You should also be mindful of your home. Do the pavers you love match your house? Do you want to use brick, stone, or something else? If you're not hardscaping everything at once, this might not be your only project. Choose materials that compliment your home and can be continued through other hardscaping endeavors.
Remember, hardscapes are a permanent fixture. Take your time in choosing your materials. You want to love your new space, and you want it to last. You also don't want to break the bank!
Prepare Your Yard
Preparing your land for hardscaping is the biggest part of the installation process. If you don't feel 100% comfortable doing this on your own, we recommend hiring a professional to help with excavation and installation (find a Belgard Authorized Contractor near you).
Excavation will be dependent on the size of the project. However, there are some general principals to focus on, such as foundation. A good foundation is needed for any hardscape project, and can ensure longevity of your hardscape design. Proper compaction of soil gives your foundation stability, and helps prevent settlement and runoff damage.
Be aware of where utility and plumbing lines are if deeper excavation is necessary. Knowing this before you start digging can help you avoid a massive headache (and a large bill)!
Finally, be sure to consider drainage issues. Planning for runoff early will help avoid a myriad of issues down the road. Runoff should be contained for site use, instead of being allowed to flow all over your concrete or other hard surfaces. Consider building swales (think shallow ditches) to collect surface runoff and provide irrigation for your soil and yard.
Relax
The installation process might not be the most glamorous part of your new hardscape, but with proper preparation, you'll be well on your way to enjoying your backyard paradise!
. . .
Have more questions about the installation process, or tips for DIY-ers? Share them in the comments! We'd love to hear from you.