As friends and family begin filtering in for the holiday season, or as you travel to their homes, we invite you to indulge in this recipe for Holiday Pears that will awaken your taste buds. With a decadent mix of spices, this dish will surely become a staple in your holiday traditions.
.   .   .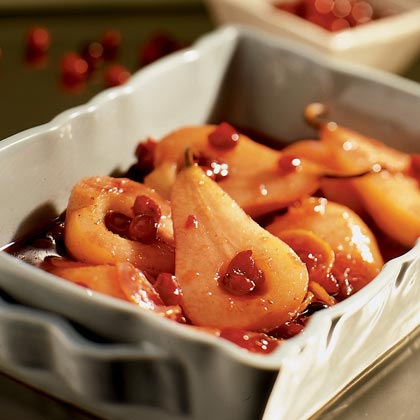 Ingredients
1 cup fresh or thawed frozen cranberries
4 firm-ripe pears such as d'Anjou or Bosc (about 2 1/2 lb. total)
1/2 rinsed lemon (about 2 oz. total), thinly sliced (ends discarded)
1 cup sugar
2 tablespoons cider vinegar
1/4 teaspoon ground ginger
1/4 teaspoon ground cinnamon
1/8 teaspoon ground cloves
Preparation
Sort cranberries and discard stems and any bruised or decayed fruit. Rinse and drain berries. Peel pears; cut in half and core. In a 2- to 2 1/2-quart baking dish, combine cranberries, pears, and lemon slices.
In a 1- to 2-quart pan over medium-high heat, stir sugar, vinegar, ginger, cinnamon, cloves, and 1/2 cup water until mixture boils and sugar is dissolved. Pour over fruit. Cover dish tightly with foil.
Bake in a 350° regular or convection oven until pears are tender when pierced, 45 minutes to 1 hour. Serve warm or at room temperature.
From Sunset December 2001