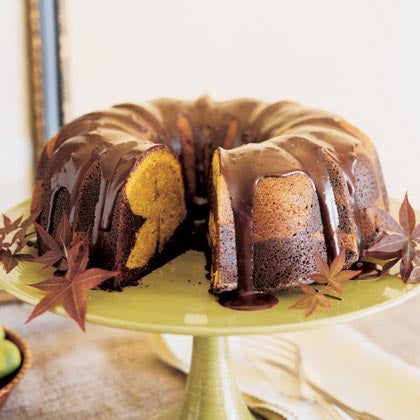 It's that time again when the holidays are linger around the corner, the leaves are falling and the temperature is starting to get a little cooler. And with the holidays comes great food! Traditional marble cake with vanilla and chocolate is a staple at get-togethers, but have you ever thought of combining the seasonal taste of pumpkin and chocolate into one? These two ingredients intertwined will have you wanting to show off your recipe to everyone at the next family gathering. It's makes a beautiful display piece at your next dinner party, especially since it serves 12 to 16 hungry guests! Consider making a few at a time, wrapping them up, and giving as gifts. This is one item that won't end up as a White Elephant gift! Chocolate-Pumpkin Marble Cake Ingredients:
1 1/2 cups (3/4 lb.) butter, at room temperature
3 cups sugar
6 large eggs
2 teaspoons vanilla
1 1/4 cups canned pumpkin
2 3/4 cups all-purpose flour
2 teaspoons baking powder
1 teaspoon salt
1/2 teaspoon ground cinnamon
1/4 teaspoon ground nutmeg
1/8 teaspoon ground cloves
3/4 cup Dutch-processed unsweetened cocoa
2/3 cup buttermilk
Chocolate glaze (recipe follows)
1/2 cup chopped roasted, unsalted peanuts (optional)
Preparation
In a large bowl, with a mixer on medium speed, beat butter and sugar until well blended. Add eggs, one at a time, beating well after each addition. Beat in vanilla. Scrape half the mixture into another bowl.
To make pumpkin batter: Beat pumpkin into half the butter mixture until well blended. In another bowl, stir together 1 3/4 cups flour, 1 teaspoon baking powder, 1/2 teaspoon salt, cinnamon, nutmeg, and cloves. Add flour mixture to pumpkin mixture and beat on low speed or fold in with a flexible spatula just until blended.
To make chocolate batter: In another bowl, mix remaining 1 cup flour, 1 teaspoon baking powder, 1/2 teaspoon salt, and the cocoa. Add flour mixture alternately with the buttermilk to the other half of the butter mixture (starting and ending with flour mixture), beating after each addition just until blended.
Spoon half the pumpkin batter into a buttered and floured 12-cup bundt-cake pan. Drop half the chocolate batter by spoonfuls over (but not entirely covering) the pumpkin batter. Repeat to spoon remaining pumpkin and chocolate batters into pan. Gently run the blade of a butter knife around the center of the pan several times, then draw the knife across the width of the pan in 10 to 12 places to swirl batters.
Bake in a 350° regular or 325° convection oven until a wood skewer inserted into center of cake comes out with a few moist crumbs attached, 55 to 60 minutes. Let cake cool 10 minutes in pan, then invert onto a rack, lift off pan, and cool cake completely.
Pour warm chocolate glaze over the top of the cake, letting it drip down the sides. Sprinkle glaze with peanuts if desired. Let stand until glaze is set, about 2 hours, or chill about 30 minutes.
Chocolate Glaze: In a heatproof bowl or the top of a double boiler, combine 4 ounces chopped semisweet chocolate, 1/2 cup whipping cream, 1 tablespoon butter, and 1 teaspoon corn syrup. Bring an inch or two of water to a boil in a pan that the bowl can nest in or in bottom of double boiler, then remove from heat. Place chocolate mixture over water and let stand, stirring occasionally, until melted and smooth, about 10 minutes. From Sunset Magazine November 2003.