When deciding on which type of fire feature to choose from, a number of factors come into play, including space, budget, building codes, and lifestyle. To make your decision easier, Belgard's Vice President, Ken O'Neill, and Joe Raboine, President of Harmony Outdoor Living, Inc., offer advice on selecting the right fire feature for your outdoor space.
"Industry-wide, I think fire pits outsell fireplaces. However, with our company, it's the opposite—fireplaces are king," says Raboine. When deciding on an option, Raboine suggests asking yourself how you foresee using your backyard.
"Fire pits are great for entertaining large groups. Both children and adults love to gather around a fire pit and talk or roast marshmallows. Fireplaces have greater visual impact and provide a more intimate conversation area for couples or smaller groups," says Raboine.
Local building codes often play a huge roll regarding both the type of fire feature and the decision to go with wood-burning or gas. Typically, wood-burning units must be placed anywhere from 10 to 25 feet from any structure, while gas-burning units can be placed almost anywhere. Some subdivision covenants may offer additional restrictions regarding the use of fire elements. In cases where space is at a premium and wood is not an option, gas-burning fire tables can offer a unique alternative that can serve both as a bar and a fire feature.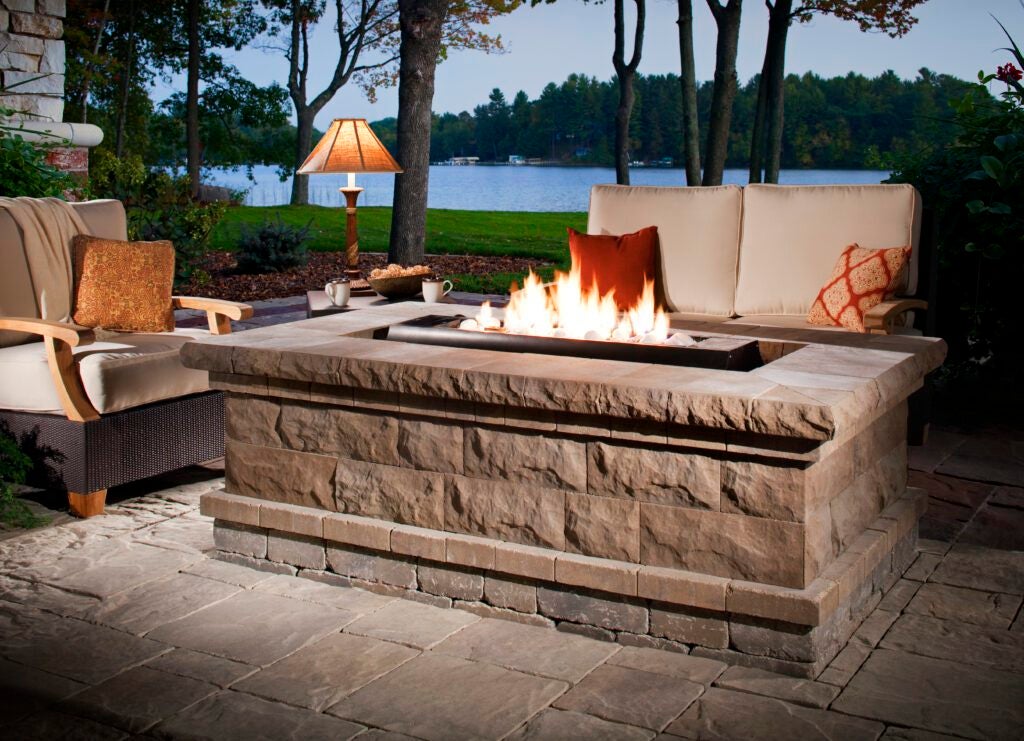 "Fire tables are not quite as popular yet because they're relatively new, but they are definitely catching on," says O'Neill. "We're also seeing an increase in demand for brick ovens, which is why we've added Chicago Brick Ovens as part of the Elements line."
Sometimes the choice is a personal one. Some homeowners prefer gas, due to the elimination of sparks and ash, while others prefer the smell and crackle of wood. Often, there are design considerations that may necessitate the use of one fire feature over another due to cleaner lines and overall flow with the surrounding landscape.
Visit our website for ideas on creating your own backyard oasis, complete with any number of fire features.