One of the fastest growing trends in the construction industry is the increased popularity of designer outdoor living spaces. An outdoor kitchen or living room not only adds to the character, value, and functionality of a home, it increases the home's useable square footage for considerably less cost than under-beam construction.
According to a recent nationwide survey of the top 10 "must haves" in new construction (conducted by AVID Ratings Co.), the outdoor living room ranks as number five.  In fact, the survey revealed that homeowners were willing to forgo a media room or a dining room in lieu of an outdoor living space.
When the trend first began to take shape, homeowners were limited due to cost restraints and a narrow number of contractors with the needed skill set and industry knowledge. However, recent innovations in prefabricated modular construction have eliminated some of those roadblocks and are paving the way for those ready to plunge into outdoor living.
One Plus One Equals Simplicity
Joint venture partnerships between supply manufacturers have greatly improved the ease and overall cost benefits of outdoor living construction. Belgard Hardscapes, manufacturer of concrete pavers and wall products, is one such company that has created these partnerships with a variety of other manufacturers, including purveyors of grills, fireplaces, fire pits, and brick ovens.
"We wanted to provide contractors a portfolio from which to create entire packages for their clients," said Belgard Vice President Ken O'Neill. "Offering a one-stop-shop scenario plus color palettes that all work together makes designing each project so much easier."
Belgard's latest venture has taken this concept one step further by partnering with Harmony Outdoor Living to create prefabricated modules for outdoor kitchens and living rooms. These modules, or kits, are pre-assembled in Harmony's factory, combining Harmony fireplaces, fire pits, and fire tables with Belgard pavers and wall products to make outdoor room construction a snap. Kitchen modules can even be ordered with grills, sinks, and stainless cabinetry included. These modules come shipped on a palette and are easily set in place with a Bobcat.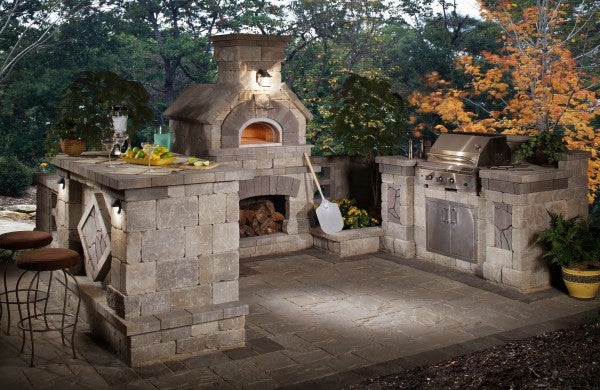 "Certain installations that once took days or weeks can now be done in minutes or hours once the foundation is ready," says Joe Raboine, President of Harmony Outdoor Living, Inc.
The use of prefabricated modules also greatly reduces the incidence of buyer's remorse. "There's often a disconnect between the homeowner's vision and the finish product," says O'Neill. "But with the prefab modules, what you see is what you get. And because the fabrication is done in a controlled environment, you get a higher quality product that's more resistant to settling and is covered under a warranty."
An additional benefit to homeowners is the ability to phase out their dream design by adding one prefabricated element at a time. A homeowner can start with a patio and later add a kitchen, then a fireplace, then a seat wall, and so on.
Sample Design Project
The focal point of this outdoor dining room is the fireplace that was built using four modular units: fireplace, chimney, and two wine rack walls. Ample patio space was allotted for additional gathering space and walking room. Incandescent lighting was added to the chimney to highlight the piece and provide additional exterior illumination.
Kitchen modules can be ordered with or without the grill, sink, and cabinetry, and depending on placement can include a bar extension for additional seating. This particular kitchen was designed to flank the fireplace, define the dining space, and operate solely as a cooking and prep area. It includes three different patterns of wall and paving products to vary color and texture and coordinate with the patio pavers.
Check back next week for a step-by-step guide to creating a modular outdoor living area. In the meantime, visit the Belgard Backyard section of our website for more information!