With less than six weeks of winter remaining, it's a good time to start planning outdoor projects for the spring. And, what better way to enjoy the warmer weather among family and friends than relaxing by a new or newly renovated outdoor swimming pool. Whether hosting a low-key pool party for the neighbors' kids or an extravagant dinner for a group of 20, a beautiful pool is not only the centerpiece of a well-appointed backyard, but the natural "life" of any successful outdoor gathering.
Just as important as the swimming pool, if not more, is the pool deck. It's likely you will spend more time relaxing around the pool than you do actually swimming in it. You will need plenty of extra space for sunbathing, entertaining or just socializing. Depending on your preferences, you may want to design a deck that is large enough to accommodate a hot tub, an outdoor kitchen or a fireplace.
Belgard pavers, with their incredible range of colors and textures, work hand-in-hand with unique pool shapes to create a stunning and inviting centerpiece to your backyard landscape. Pavers around pools are the perfect performer, providing a comfortable walking path or even an elaborate area for entertaining, all designed with a coarse texture for a safe, non-slip walking surface even when wet. Belgard pavers allow for maximum drainage, and their very dense structure also works to minimize penetrating moisture and reduce damage caused by freeze conditions.
Although pools are clearly more popular for summer gatherings, Belgard's recent partnerships with Harmony Elements, Chicago Brick Oven and MediumRare offer easy, affordable opportunities to transform your poolscape into an outdoor living room you can enjoy year-round. Harmony offers pre-built modular hardscape elements, such as fire pits and fireplaces, which can be installed quickly and in phases to fit any budget. Chicago Brick Oven and MediumRare allow the consumer the ability to enjoy cooking outdoors, while creating a unique focal point.
Belgard Sales Manager, Nate Gish and Sales Representative, Doug Porter, offer a few suggestions for incorporating these elements into your backyard to maximize your poolscape's functionality year-round: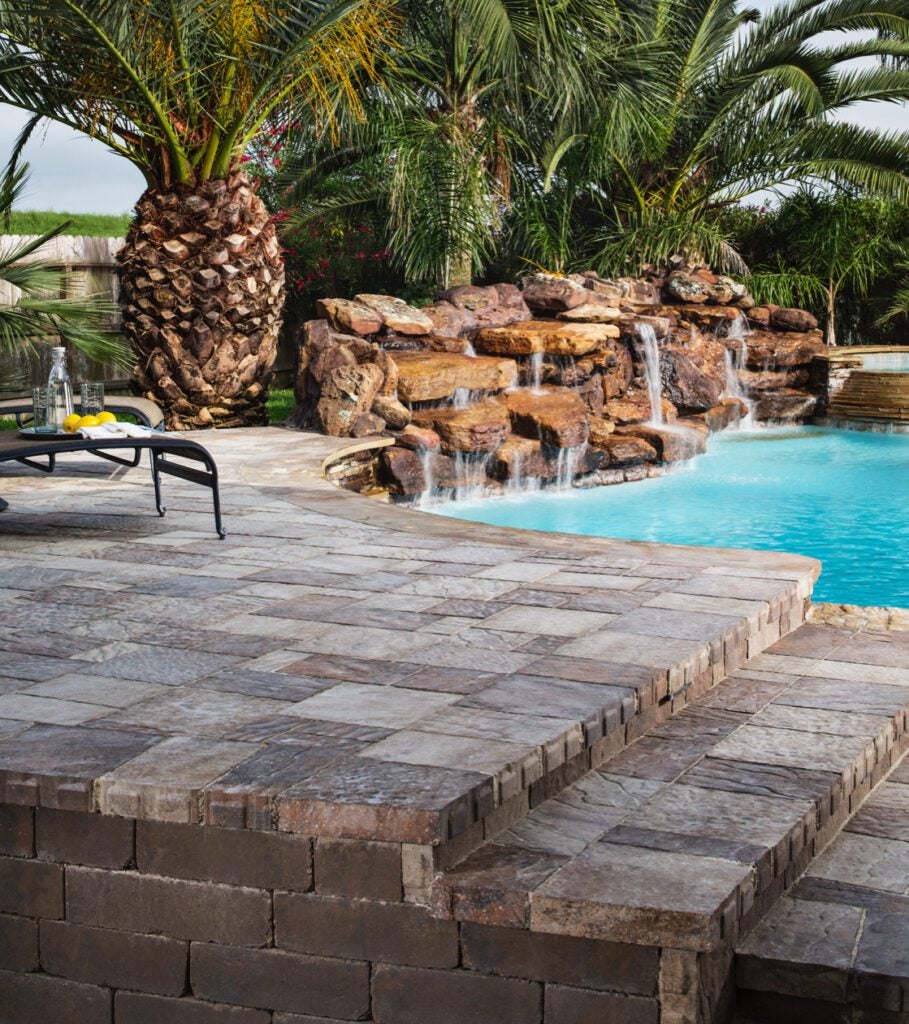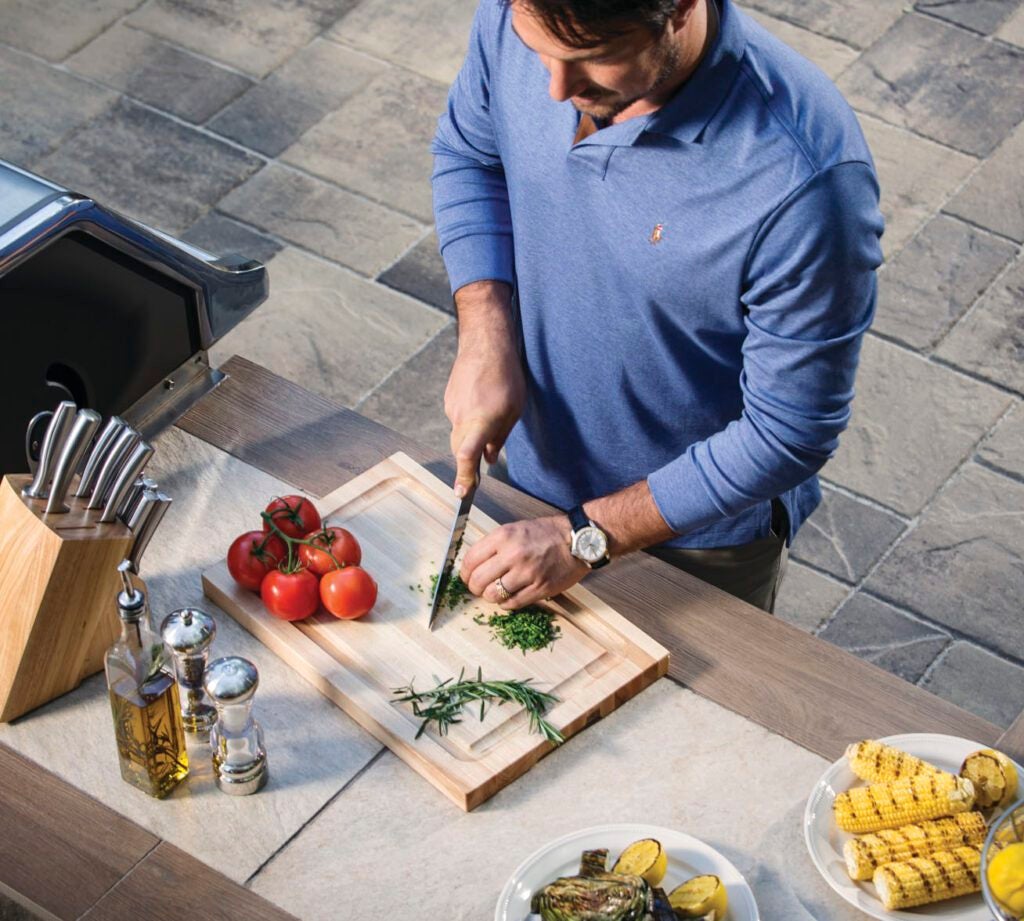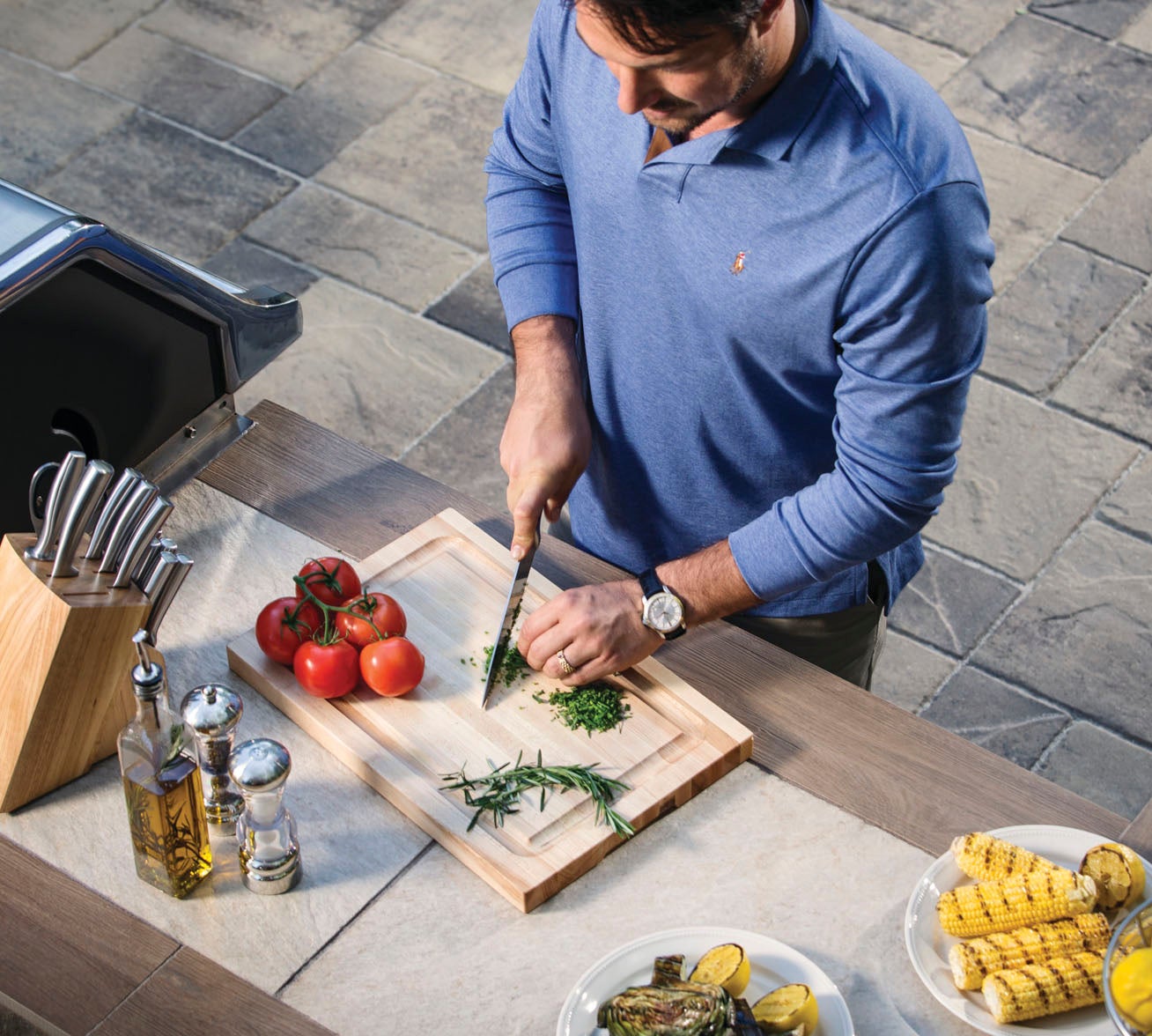 Outdoor Kitchens
An outdoor kitchen integrated into your hardscape design takes entertaining to a whole new level. Imagine having everything you need for cooking, right at your fingertips. No more leaving your guests to run inside.
.
.
.
Fire Pits and Fireplaces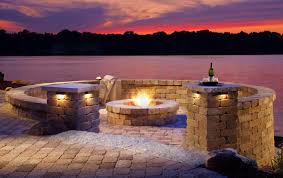 Your backyard swimming pool is sure to become a gathering spot for your family and friends.  So install a fireplace and enjoy a roaring blaze on chilly nights. Or, surround a fire pit with a seating wall or a set of armchairs so guests can be comfortable while they enjoy the ambiance and warmth.
.
.
.
Planning Suggestion
Be careful when adding one of these outdoor elements.  When one of these units is placed in the landscape, it will easily make that area a focal point and draw attention to that particular area.  Please allow at least 3 times the unit dimension around the element as people will be sure to gather or place their chairs in that area.
. . .
To learn more tips and tricks and to interact directly with trade professionals, visit our discussion thread on the Outdoor Living by Belgard Facebook fan page.