Have you noticed signs about upcoming Home and Garden shows? Then you know Spring is here! Although the Northeast may have had a blistery April Fool's Day, it is time to till the garden. Belgard has been the feature at many of the country's largest shows. Below is a sample of the top of the line displays created for homeowners to be inspired. Double click on any photo to enlarge. Don't forget to visit our website for inspiration.
---
Virginia Mid-Atlantic Show

Belgard's Elements outdoor kitchen area was the main showcase. With a variety of Belgard pavers, including Old World and Arbel® Stone, plus Celtik® Wall and BelAir Wall® creating seating, and integrated lighting, you felt as though you were outdoors. You will see how Belgard pavers, plus an Elements Bristol Collection kitchen and fire place, work together. The complete look is fabulous.
---
Southern Spring Home & Garden Show, Charlotte, NC
The Southern Spring Home and Garden Show featured a stroll through "Belgard Gardens." Within the Park Expo Center, a true romantic presence was felt. A circular path of Belgard's Arbel Stone pavers and a seat wall from the double-sided Weston Collection invited you to linger. Lighting installed directly into the walls gave the beautiful landscaping a fairytale feel as well as its functional purpose, to light the path.
Mixing the paver products of Arbel and Lafitt pavers, allows two paths to come together in a carpet-like manner. One leads off through a castle gate towards a Belgard free standing Belair Wall®. Many design tips can be collected from this amazing display.
---
Southern Ideal Home Show, Greensboro, NC
Belgard's Mobile Show Room parked outside the Southern Ideal Home Show. Visitors were welcomed by the Elements Bristol Collection and its unlimited possibilities of matching seat walls, cabinets, kitchens, and more.
Inside the show, Belgard Arbel® Stone pavers created a handsome flooring and Weston Wall™ created convenient seating, column and fire pit. Adding one (or more) of these features completes a backyard so the outdoor enjoyment continues throughout the year.
---
Rochester Home Show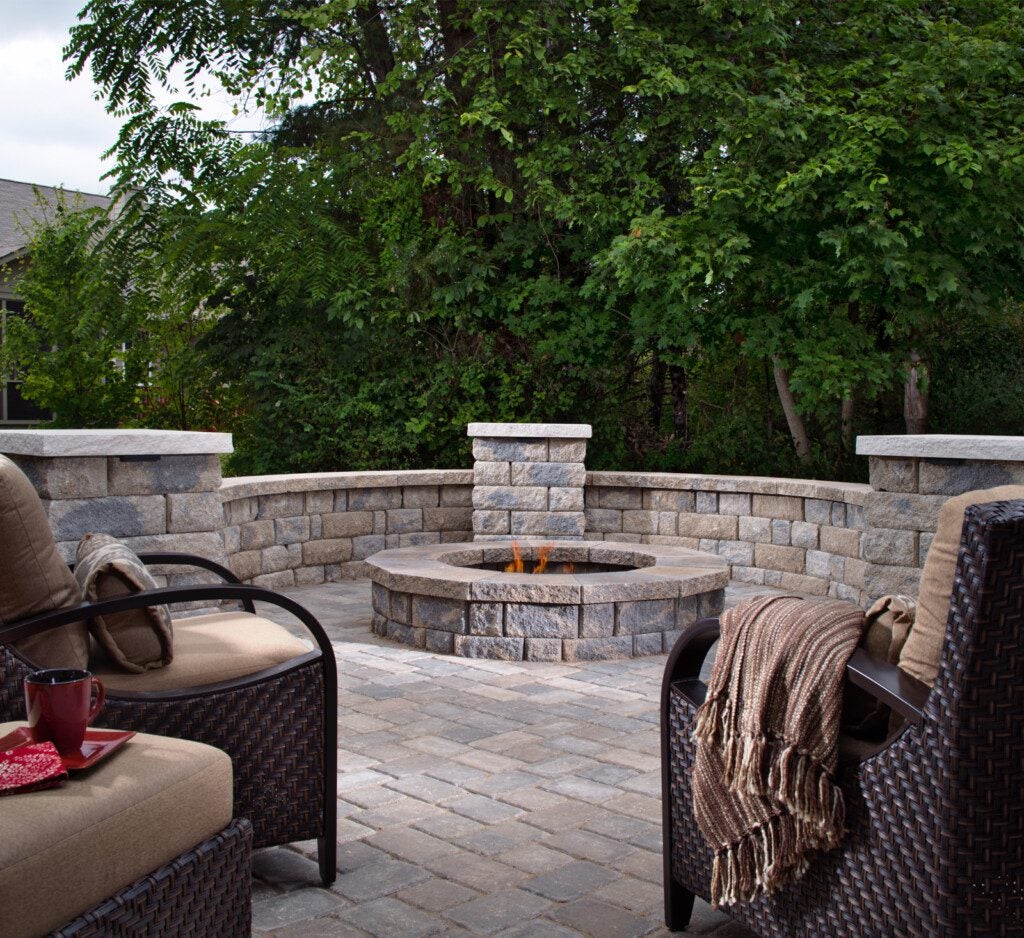 The Rochester Home Show set up a Chicago Brick Oven and Element Bristol Collection full kitchen display with seat walls. The back of the kitchen and brick oven are as handsome as the front. You might consider planting a vegetable or herb garden. Pull off some fresh basil leaves and add to your homemade pizza!
This kitchen features a MediumRare grill, stainless steel cabinets, a cocktail station, bar, sink, and electricity – all part of Belgard's Elements. The Bristol collection uses a granite counter top, edging of Dublin cobble, and Urbana banding. With Belgard, the attention to detail is impeccable. Using Elements, your outdoor kitchen planning is a snap, and it installs within a day or two.
The area also included an Elements Brighton fireplace with water features and matching seat walls. It coordinated with Arbel® Stone pavers in a circular fashion which delineates the outdoor living space. The dining area features Lafitt pavers and a Weston wall to add seating and separation.
---
Milwaukee Realtor Show

This show took Belgard's BelAir Wall™ and created a fabulous outdoor bedroom with built-in lighting! Notice the head and foot boards created from the Arbel® Stone Collection. The outdoor bath tub was a must-see. The look was completed with Belgard's environmental line of permeable pavers from the Subterra® collection. Permeable pavers allow rainwater to be absorbed by the ground where nature filters the water, instead of becoming runoff.