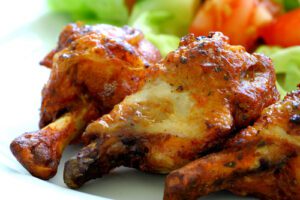 Want a great halftime meal without missing the big game? Grab an aluminum can of your favorite malty or sweet beverage and fire up the grill! With this simple recipe that practically cooks itself, you'll get to spend more time with your guests watching the game (and the commercials). Now, that gives everyone something to cheer about!
INGREDIENTS: 5-6 pound chicken (serves 4-6) Aluminum can half full with any of the following…beer, wine, chicken broth, soda (not diet), fruit juice Non-stick cooking spray Olive oil or melted butter Aluminum pie pan Your favorite spices or dry rub mixture
TIPS
Make sure the can will fit in the chicken and that the chicken will fit standing up on your grill with the cover down. There are a number of products available to help a larger bird stay upright if you are having a problem.

Wrap the can with foil, then coat with non-stick spray for easy removal.

Wash the chicken inside and out and remove all excess fat.

For even more flavor, add extra ingredients to the canned liquid – such as spices, garlic, onions.

Lightly baste the skin with olive oil or melted butter to make it crispy.

Gently add your seasoning or dry rub UNDER the skin and on the inside of the bird.

Place the can and chicken upright on the aluminum pie pan. The pan will contain the chicken if it falls apart during cooking or removal from the grill.

Make a foil packet of veggies and potatoes and add to the grill during the last hour for a complete dinner.
ON THE GRILL Use indirect heat. If you have heat on both sides, you will not have to turn the bird. If not, carefully rotate it a half turn every 30 minutes. For the barbecue, it is recommended to keep the heat between 300-325 degree. For the smoker, keep the temperature slightly above the boiling point for the liquid – around 250 degrees.
Plan for 2-3 hours for a 5-6 pound bird on the grill. Smoking time may be longer.
IS IT DONE YET? It's not the time but an internal temperature of 170-175 degrees that says, "I'm done!" Check the temperature at the thickest part of the bird, around the thigh, but don't touch the bone. Once off the grill, let it sit for 10 minutes (the internal temperature will continue to rise). All juices should run clear. You may need tongs to pull out the can. No carving is necessary – the meat should fall off!